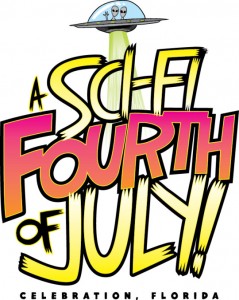 Celebration Town Center returns with "A Sci-Fi 4th of July"
Celebration Town Center's World Famous 4th of July event presents the third annual "A Sci-Fi 4th of July" in beautiful downtown Celebration, Florida.
Celebration Town Center's "A Sci-Fi 4th of July" will feature a Sci-Fi themed costume contest at 7:00 PM, so come dressed as your favorite character for a chance to win big prizes.
It will also feature a synchronized fireworks spectacular set to a Sci-Fi themed soundtrack, bounce houses for kids, live music by The Jonnie Morgan Band, Carly Jo Jackson (America's Got Talent), Gina Marie Incandela, DJ Tami, your host-Mark Daniel, and more as well as an unforgettable tribute to our Veterans.
So, get ready to dance the night away in a one of a kind, family-friendly event with a fireworks show you will be talking about for years.
There will be something for people of all ages as Town Center's KidZone will feature an assortment of inflatable games for kids and teens that will include a jousting area, bounce houses, face painting and more.
Additional music will be offered by The Dixieland Jazz Band. This unique group, made up of former members of the "Rosie O'Grady's Good Time Band" will offer patriotic music for the whole family to enjoy.
As always, Parking and Admission are FREE!!!!
Free Park and Ride Shuttle will be available from 215 Celebration Place.
Come early, stay late, and have fun at this year's "A Sci-Fi 4th of July".
IMPORTANT NOTICE: No Coolers or Glass Bottles Are Permitted Inside the Venue Area