Council Meeting
Regular Council Meetings are held the 1st and 3rd Tuesday of each month at 6:00pm.
Most meetings are conducted in the boardroom at the Emergency Services Building at 340 Herbert Street, Gananoque, ON – any changes will be posted on the Town's website.
Public attendance is welcome.
This page only displays the current year's Council meeting information. To View archived meetings' agenda, backup material, or minutes please scroll to the bottom of this page and select the desired year. If searching a specific item go to the top of this screen and use the search engine provided by typing in the subject matter be sought – this will search across all years.
The Council Agenda is in an electronic interactive format. The supporting material for the Council Agenda is linked to the Agenda and appears as a paper clip – also attached is a draft motion that Council will be considering. To view a specific report or item on the agenda, open the Agenda then double click on the paper clip beside the desired item; or right click on the desired paper clip and then click on "Open File".
Date:
Tuesdays, November 1 & 15, 2016 – 6:00pm
Location:
Emergency Services Building – 340 Herbert St
For more info, please visit: http://www.gananoque.ca/town-hall/town-council/council-meetings
……………………………………………………………………………………………………………………………………………
Gananoque Horticultural Society
In Continuous Service to the Community Since 1920
Holiday Containers Diane Huddle will help you beautify your home's exterior.
Organization: Gananoque Horticultural Society
Date: Wednesday, November 9, 2016 | 7:30 to 9 pm
Event location :
Carveth Care- Herbert St. Entrance 375 James St.
Contact:
Contact Name: Penny Stewart- President
Contact Email: gan.hort.soc@gmail.com
Contact Phone: 613 546 6093
Website: http://www.gardenontario.org/site.php/gananoque
……………………………………………………………………………………………………………………………………………
Beginner Yoga Workshop
This workshop is perfect for students who have never taken a yoga class before or have taken a couple classes but just aren't getting it. Learn about what yoga might mean to you – mind and body. Let's quiet any of those ideas that might make yoga seem intimidating to you.
The first part of the workshop focuses on what yoga is, various breathing (pranyama) techniques, the importance of stability and understanding how your body moves. In the second part of the workshop we discuss key postures (asanas), learn how to safely move into each one and how to effectively use props. Lastly, you will participate in a 1 hour yoga class.
Previous owner of The Ledger Room, currently teaching at The Ledger Room, graduate of Amara Vidya Yoga.
Cost: $40 which includes 2 weeks of unlimited yoga. Registration is required.
You will leave this workshop with a good foundation allowing you to feel comfortable in regular group yoga classes.
Date: Saturday, November 5, 2016 | 1 to 5 pm (2 breaks)
Event location:
The Ledger Room, 21 King Street East,
Gananoque, ON, Canada
……………………………………………………………………………………………………………………………………………
Gananoque Arts and Crafts Fair
Date: Saturday, November 5, 2016 | 10 am
Event location:
Gananoque Secondary School, 175, William Street South
Gananoque ON, Canada
……………………………………………………………………………………………………………………………………………
Moonlight Open House
It's that time of year – it's Moonlight Open House!! We celebrate women in business and celebrate the customers that support our local shops. Join us for our annual customer appreciation night.
Visit any of the participating stores ahead of time to pick up your ballot/passport card. Ballots will be ready for pick up as of Tuesday October 25th.
On the eve of, stop by particpatng stores to get your passport stamped (no purchase required). Also take a moment to enjoy treats, drinks and 15% off any purchases.
Your passport is your ballot for the grand prize draw. The grand prize draw happens 8:30 at the The Socialist Pig: food for everyone as usual.
Magnolia Flowers
Linda's Fashion Boutique
Corner Stone Stylists
Nature's Tonic
Rapunzel Studio of Hair Design
Old Love Antiques
Heather Haynes Gallery
Steel Style Garage
Little Pump House
Date: Thursday, November 10, 2016 | 5 to 8 pm
Event location: Downtown Gananoque, Gananoque, Canada
……………………………………………………………………………………………………………………………………………
The Choice is Ours
Join us on Sunday, November 13th at 1:00 p.m. for our community conversation "The Choice is Ours: A Local Perspective on Global Climate Change" at Gananoque Public Library.
Date: Sunday, November 13 to Monday November 14, 2016 @ 1 pm
Event location:
Gananoque Public Library, 100 Park Street,
Gananoque, ON, Canada
……………………………………………………………………………………………………………………………………………
TiArts and IvyArts Fair
Thousand Islands Arts (tiArts) is an umbrella organization of artists, artisans, patrons and business partners from the Thousand Islands region.
Our annual Holly and Ivy Arts Fair will feature talented local artists, including:
Carolyn Barnett: Fabric/Textile Wearables
Bonita E Bell: Stained Glass
Sally Chupick: Painting
Jill Montgomery: Fibre
Catherine Richmond: Jewelry
Jill Spear: Pottery
Valerie L Thomas: Jewelry
Ron Tidrow: Leather
Debra Tate-Sears: Watercolour
Sarah Dionne: Warm Glass
Linda Davis: Natural Personal Care Products
Date: Saturday, November 19, 2016 | 10 am
Event location:
125 Water St, Gananoque, ON K7G 3E3, Canada
……………………………………………………………………………………………………………………………………………
Gananoque Santa Claus Parade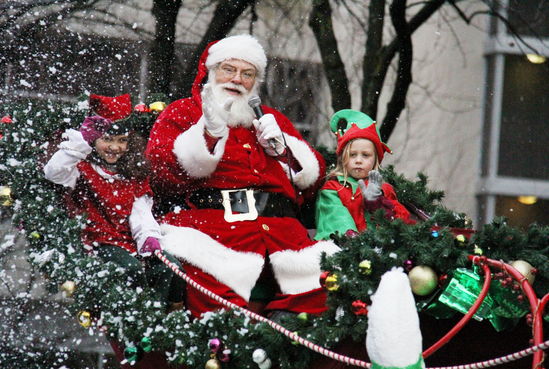 2016 Annual Gananoque Santa Clause Parade Admission Details: Admission is free. Local retailers will be offering free coffee, hot chocolate and snacks during parade. We will be collecting donations for the Gananoque Food Bank.
Santa and a couple of his reindeer will be in the park following the parade to meet with children and to hand out some presents! There will also be a couple of the bands staying to entertain us so get your caroling voices tuned up for a fun evening to set the holiday spirit!
Date: Saturday, November 26, 2016 | 4:30 to 7:30 pm
Contact:
Email: beggarsbanquetbooks@gmail.com
Phone: 613-463-8998
Organization: Gananoque BIA Publish
Event location:
BIA area of Gananoque, down King Street to Town Hall
……………………………………………………………………………………………………………………………………………