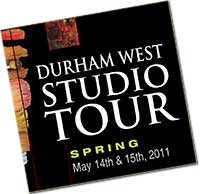 Art aficionados, clear your schedules as this year's Durham West Studio Tour happens real soon. See a lot of art works and hand crafts on exhibit and be dazzled as this year's event will feature a whole lot of artists. This will definitely be an event you won't want to miss. This event is open to everyone, children and adults alike. Celebrate wonderful and magnificent works of art with us and be excited with what we have to offer this year. It will absolutely be bigger, greater and more extravagant—more than fitting for the entire family. This is definitely going to be the art event of the year. Join us and celebrate on the 14th until the 15th of May 2011 from 10 in the morning straight until 5 in the afternoon at the Ajax and Pickering. Don't miss this fabulous and amazing art event.
On the event, pick up a tour brochure with a map included and start exploring the wonderful world of art. Expect to see a lot of paintings and hand crafted art pieces at the event only done by the finest artists of the area.  This event is open to all with no admission fees and is the most ideal way to bond, get excited and simply have fun with the whole family. Ajax and Pickering – The Durham West Arts Centre takes great pride in presenting the new Spring Durham West Studio Art Tour. This is the first annual event which will showcase a lot of new artists from Durham West. Get the chance to meet the artists and see their magnificent art works. Expect a whole lot of art works and hand crafts which are intricately detailed and beautifully hand crafted. You should only see the best since you deserve only the best. This is definitely what you will get at the studio tour.
See a lot of great artists and some of the most amazing spring colors waiting for you. These artists have been preparing since the winter season and with all the hard work done by the artists, you should probably see the best art pieces on display. Watch their live demonstrations and interact with the best local, regional and international artists that will be present at the event. The event is growing bigger and bigger each year and this year, we promise to deliver you a greater event, one that you deserve. Be at the Durham West Studio Tour.