Every year, on the third Saturday in September, Lyndhurst's population of roughly 300 residents swells to a bustling crowd of up to 5000. People come from near and far to enjoy the annual Lyndhurst Turkey Fair. Run by local volunteers, the event is reminiscent of a time when farmers would gather in the village to show and sell their finest poultry. After a day of selling, the farmers would make arrangements to ship the birds as far away as Montreal and Toronto from the Lyndhurst train station. That evening, there would be a dance and celebration. The market drew a crowd then, and the tradition continues today as people meander through the village streets during the fair, enjoying a number of events.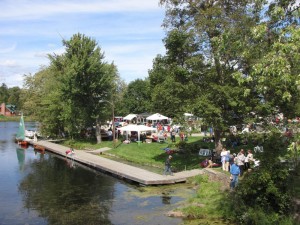 The free day of fun includes:
a quilt show
antique cars and boats
a craft fair
horse and wagon rides
a silent auction
free voyageur canoe rides
live entertainment
several prize draws
The fair abounds with free activities for children such as
a fishing contest
petting zoo
pony rides
games
carnival rides
crafts
a reptile show and more
Youths and adults also have the remarkable opportunity to race authentic St. Lawrence River Skiffs in Lyndhurst Creek. The proceeds from the Turkey Fair are given back to local charities and communities.
For more information visit www.turkeyfair.com