The Relay for Shelter is not only a fundraiser; it's also a lot fun. The Relay for Shelter welcomes participants of all ages….you do not have to be a runner or even be athletic, just be ready for some hours of wacky activities, friendly competition and good, clean fun.
With a captain leading the way, teams of any number of colleagues, family and friends sign up and fundraise. Registration fee is $15.00 per (adult) and (children 18 & under) $10.00 which includes t-shirt, picnic lunch, along with entry to the days events. We ask each (adult) participant to raise $125.00 and children under 18 are encouraged to raise $100.00. Teams can hold car washes, BBQS, chili cook-off, 50/50 draws and other creative fundraising events, and all pledges of $10.00 or more are tax receipted. Teams can be made up of anyone who likes to have fun and who will help raise much needed $$$ & awareness about Shelter House.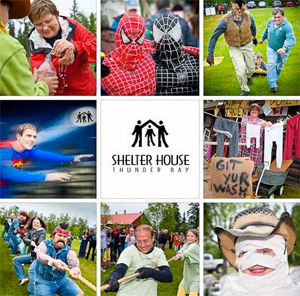 On June 4th, 2011 at Chippewa Park we're going to celebrate your efforts from 9:00 am to closing ceremonies starting at 7:00 pm with the best funfest picnic you will ever be a part of, featuring team games, sporting events, entertainment, awards, bonfire and more….
For more information visit the Relay for Shelter's official website at www.shelterhouse.on.ca.