Come and out celebrate your Country's birthday all over Muskoka! There is a lot going on all day, so come out to one or all of the below events to honour Canada.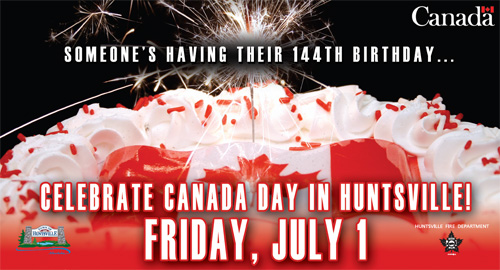 – Join us for O Canada & Canada Day Cake at River Mill Park
M.P.P. Parry Sound Muskoka Norm Miller, Mayor Claude Doughty will cut the Canada Day cake at 10am. Sing O Canada, flags, tattoos & pins available. Enjoy music from Muskoka Concert Band 9:30-11am.
– Brunel Locks Canada Day Celebration
Brunel Community Centre Board is offering complimentary transportation through Brunel Locks for Canada Day. Enjoy the Floral display at the Brunel Locks. Free hot dogs and soft drinks from 11am to 3pm.
– Muskoka Heritage Place Strawberry Social
10am – 4pm at the Museum, Admission Free. Entertainment, demonstrations, Canada flags and pins. Includes Strawberry Scones while supplies last. Costumed narrators, historical demonstrations, strolling minstrels.
– Trillium Jazz Band
From 11am-1pm at the Town Hall steps.
– Port Sydney Canada Day Celebration
From 10:30am – 3pm at the Port Sydney Beach. Sand Castle Competition, Canoe Lessons & Races, Canada Day Hat Parade, Clowns, face-painting, BBQ, Demonstrations and more.
– Heritage Huntsville Train Station Tours
From 10am – 4pm. The Train Station is located at 26 Station Rd., Huntsville. Tour the Huntsville Train Station & Baggage Room.
– Robinson's Independent Grocer
From 11am – 1pm at Commerce Park there will be birthday cake, tattoos, games, and kids will make a craft to take home. Balloon release with prizes – 1pm.
– All Saints' Anglican Church
Starting at 9am, located at 30 High Street, Huntsville. Service of Celebration & thanksgiving!
– 16th Annual Coldwell Banker Thompson
Real Estate Canada Flag Placing. 6,000 flags placed around Huntsville and Port Sydney
– Royal Canadian Legion Branch 232
Opening Ceremonies starting at 11am. Tractor Pull- Singing Contest – Family Activities – BBQ Lunch and Roast Beef Dinner 5pm, Entertainment 7-10pm.
– Girl 8 Festival
At River Mill Park starting at 7pm. A concert featuring local female lead performing artists – M.C. Grant Nickalls. Admission by Donation – Supporting The Table Soup Kitchen Foundation
– Arrowhead Provincial Park
From 7:30pm – 9pm – Folk singer and recording artist Glen Reid accompanied by violinist Marion Linton – Mayflower Lake Amphitheatre – $14.00 per vehicle or free with a valid Ontario Park's Season Pass or Vehicle Permit
– FIREWORKS! LAUNCH LOCATION
Over Hunters Bay behind the Fire Hall – Great location to view fireworks – Avery Beach Dusk – 10pm