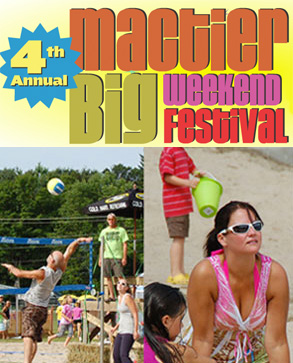 It's a family friendly weekend in Muskoka that is hometown proud and affordable. There will be something for everyone and the best part…almost everything is FREE!
The MacTier Community Development Committee is very pleased to announce the 4th Annual Big Weekend Festival taking place beginning Friday, July 29th and running through until Sunday, July 31st, 2011 in MacTier, Muskoka Ontario. The Big Weekend Festival offers an affordable Muskoka experience for the entire family.
The weekend will kick off with the 2nd Annual Muskoka Beach Volleyball Blast, Comedy Night with some of Canada's top comedians and a Family Movie Night Under The Stars beginning Friday evening, July 29th. On Saturday family and friends can take part in a multitude of activities including an evening of music and dance at the Under The Big Top Dance, a Children's Fishing Derby and lots of children's entertainment. We also don't want people to forget that Sunday is also action packed beginning with the 4th Annual Stewart Lake Regatta followed by the annual bonfire and corn roast.
The weekend concludes with the Parade of Boats followed by a spectacular fireworks display sponsored by Wayne's Home Hardware. Other Highlights of the weekend include open mic live music, aboriginal dancers, BBQs, a community breakfast, Royal Canadian Legion Dinner…and so much more!
For more information visit the official website at: www.bigweekendfestival.ca.