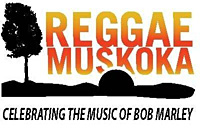 Celebrate the music of Bob Marley at Reggae Muskoka taking place August 21, 2011 at the Bracebridge Fair Grounds. Join the celebration as Bracebridge comes alive with the sound of or reggae music, the sweet aroma of Caribbean food and the many vendors' booths decked out with a variety of craft and other products.
The wide line up of Reggae performers include Errol Blackwood, House of David, Fingaz, Korexxion, Tanya P, Moses Revolution, Matrixx, Shalli and Laza with Jam Iyah is sure to give festrival goers an unforgettable musical experience.
For more information visit: www.reggaemuskoka.com.