Come out to the second annual Eastern Fishing Boat & Cottage Show which will be held on February 4th, 5th and 6th, 2011. The Beckwith Recreational Complex (1319 Ninth Line Road, Beckwith Township) will again host this years event. This complex is located in Beckwith Park and houses an arena as well as a large indoor soccer field. It is the soccer field that will be used as the show venue. The complex is located just minutes from Carleton Place betwen the Village of Ashton and Blacks Corners located on Hwy#15.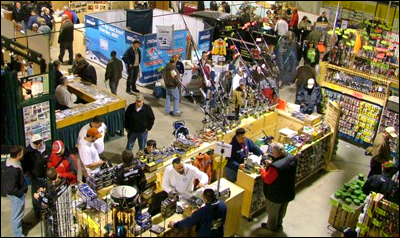 The soccer field will host our many exhibitors. New to this year's event, will be included a variety of Cottage friendly exhibits. On display will be almost every make of 2011 fishing boats and motors. The information you can get on all the products is free and they will be more than happy to help you decide what is best to meet your needs.
Thinking about spring and open warter? Well why not be ready for the upcoming fishing seasons and those open waters. They don't only have fishing boats, check out the canoes, fishing kyacks, personal watercraft, docks, fishing tackle, landscaping and much more.
Have you got your boating licence? If you have that is great, but if you don't remember IT IS THE LAW to have one if you are planning to operate a motorized water craft. The will have D&M Boater Course instructors available to provide you with your pleasure craft operator exams so you will be ready to hit the open water without the fear of getting caught without your license. This years' show has added another 40 booths. They have a big surpise for your boating types!
For more information visit: www.valleysportsmanshow.com