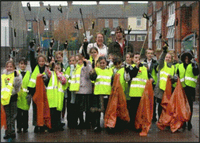 The Carleton Place BIA knows the citizens of Carleton Place are rock solid in their belief they can make an environmental difference in their community.
The Carleton Place BIA an organization committed to supporting downtown Carleton Place is stretching their wings and will again organize the 13th community wide clean-up campaign. Pitch In Canada is run the week of April 23—28, 2012, and the BIA will co-ordinating the community clean up.
In 2011 event approximately 2000 participants who cleaned, swept, polished windows, and made our community look beautiful. The BIA anticipates the 2012 clean up will again bring an astounding number of people together for this very worthwhile activity. The BIA is looking forward to seeing churches, schools, service and sporting groups and citizens of our community out picking up litter. Your commitment makes a difference to all of us.
For more information on how you can participate in this worthwhile visit www.downtowncarletonplace.com.