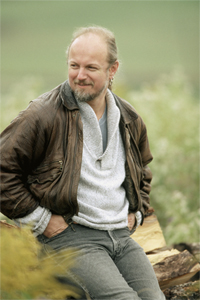 He has been described by the BOSTON GLOBE as "one of the greatest performers of our time." He is tall in stature (six and a half feet) and tall in voice. On stage he becomes a presence onto himself. A composite musician plus so much more. He is, Garnet Rogers. On Friday May 4, 2012 Garnet Rogers will appear "Up Close & Personal" at the St. Andrew's Presbyterian Church (39 Bridge Street Carleton Place, ON) in Carleton Place. Showtime is 8pm.
This show is a joint presentation of the "Carleton Place In Concert Committee" and Lyle Dillabough Productions. It is the second of such presentations following the highly successful debute (that featured two sold out shows featuring Murray Mclauchlan) last October.
The beautiful combination of Rogers and the amazing sanctuary that exists within St. Andrew's should prove to be an amazing experience in itself. Built for sound, (excellent acoustics) with elevated seating and terrific sight-lines this 175 year old building is truly a gem of the Ottawa Valley. Roger's "smooth, dark, baritone" and precise musicianship will reverberate incessivaley throughout this venue.
Over the years Garnet has produced dozens of albums and has played nearly everywhere it would seem. In 1990 he appeared in Carleton Place as the headliner for the BALLGIBLIN FOLK FESTIVAL which was held at that ime as part of the Town of Carleton Place's 100th birthday celebrations.
The "Carleton Place In Concert Committee" is excited and pleased to bring him back as he is the ideal type of performer that the organization is trying to attract and present as part of their "Up Close & Personal" concert series initiative.
Tickets for the show are $35. (thirtyfive) dollars each (HST included) and can be obtained in Carleton Place at: Temptations (117 Bridge St) and SRC Music (124 Moore St) Also in Perth at Burns Jewelllers (66 Foster St).
Garnet also requests that everyone please bring along a donation (non-perishable food item/cash) for the Lanark County Food Bank as part of his ongoing "End Hunger" campaign. Something he strongly believes in.
For more information call 613-257-4970.