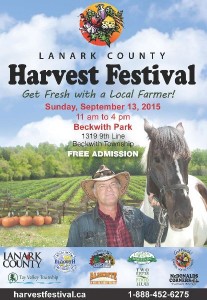 Get Fresh with a Local Farmer at this Annual festival that celebrates fine foods made with love in Lanark County. Taste maple garlic and honey galore at the Annual Lanark County Harvest Festival slated for Sunday September 13th 2015 from 11 a.m. to 4 p.m. at Beckwith Park (1319 9th Line Beckwith near Carleton Place).  Enjoy seminars on delicious topics that will teach you about such things as the food that grows here and how to prepare it. Discover children's activities and games tap your toes to some of Lanark County's finest musicians and of course sample the wares offered by local vendors who are passionate about what they produce. Come and see why Lanark County is a food destination and experience the benefits of local food! The festival is a collaboration of local farmers' markets and groups that partner to bring the best in local food to your table.
Food Seminars & Cooking Demonstrations
In 2015, the following topics will be presented by experts. From maple syrup to improvisational cooking, we're sure to spark your interest in local food!
11:00 AM
Edible Flowers
Sylvia Van Ort
Sylvia will demonstrate the art of flower arrangements and discuss which flowers are edible.
11:30 AM
Cooking Demonstration
Roger Weldon
Local chef Roger Weldon will shop on site for ingredients to make an impromptu dish using local products.
12:00 PM
Opening Ceremonies
Harvest Festival Committee
Featured Municipality
Tay Valley Township Display
1:00 PM
Mushrooms
"The Fungus Among Us"
Scott Perrie, Valley Wild Edibles
Discussion of the tricks and secrets of the foragers of Valley Wild Edibles. Learn how, where and when to look for tasty wild edibles commonly found in the region, as well as tips on how to responsibly harvest a few of these tasty treats. Tools, guide books, culinary preparation and preservation methods will also be discussed to provide the audience with a starting point for their own foraging adventures!
2:00 PM
Cooking Demonstration
Stan Dueck or Bruce Enloe
Local chefs will provide visitors with the experience of learning how local foods can be transformed into masterpieces.
2:30 PM
Maple Syrup Seminar
Ray Fortune and Dwight James
Maple Syrup – Learn about the proper methods for storing and cooking with maple syrup as well as recipe ideas. Tasting opportunities where audience members can sample and compare the different grades of maple syrup and other maple products.