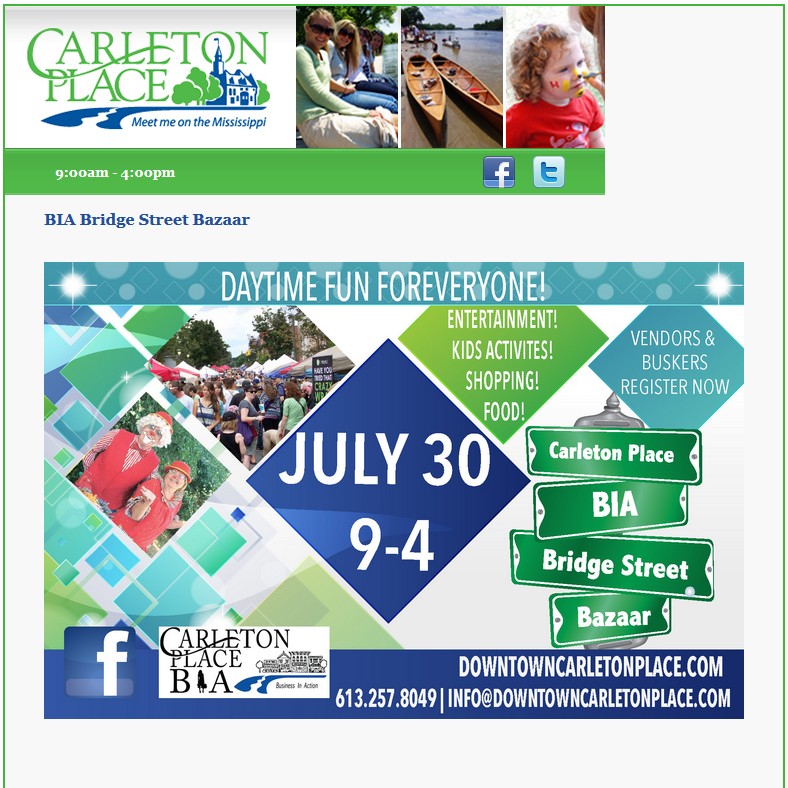 Calling all locals and out-of-towners! The Carleton Place Business Improvement Association (BIA) invites you to visit downtown Carleton Place on July 30, 2016 to enjoy a summer community extravaganza.
The 10th Annual Bridge Street Bazaar will showcase the center of this colourful and historical town including a sidewalk shop with over a hundred vendors. Visitors can Meet Us Downtown On The Mississippi have the opportunity to shop, enjoy some great local entertainment, and eat at waterfront pubs and restaurants.
The entire downtown section of Bridge Street will be shut off to vehicular traffic making way for a pedestrian-friendly area where both vendors and merchants alike can display and sell their products. The full-day schedule of the sidewalk sale includes various activities and attractions – including some of Carleton Place's finest musicians mascots and dancers. This family fun event offers something for even our youngest visitors – petting zoo pony rides face painting and balloon animals are among the many activates that will delight the young and young at heart. The sound of pop rock and country will fill the air as spectators enjoy a full day of live local entertainment. Entertainment in the downtown market full of variety and best of all free of charge!
With community groups restaurants and arts programs all coming together for the day visitors will truly be able to immerse themselves in the culture of Carleton Place discovering all that our great town has to offer. When the BIA works together with the Carleton Place community great events are born that work to unify the people and develop a community's attraction and overall spirit.
Date :
Saturday, July 30, 2016 from 9 am to 4 pm
Event location :
Downtown Carleton Place
Contact :
please contact Cathie McOrmond at (613) 257-8049 or email: cmcormond@carletonplace.ca