Full Moon Walk – Carleton Place Community Labyrinth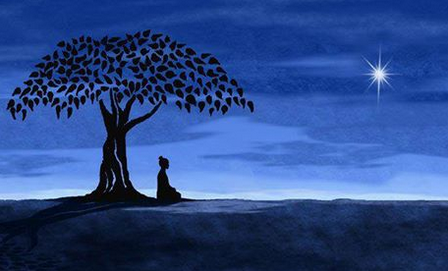 You can choose to sit (or walk the labyrinth) in the moonlight and meditate OR recite a poem that has special meaning to you – which will help you get more energy and feel refreshed.
Date :
Thursday, October 5, 2017
Event location :
267 Edmund Street
K7C 3E8 Carleton Place
Contact :
Phone contact: +1 613-257-1014
……………………………………………………………………………….
Country Harvest Music Show
This event is in its 8th year new location this year We will have a wide variety of Small business , Direct Sales and Crafters for this event. Admission is free. Ladies of the Tay bags to our first 50 Shoppers Vendor Bingo visit every vendor and enter to win a prize.
The Annual Country Harvest Music Show will take place on October 15th, 2017 at the upper hall of the Carleton Place arena. The evening is packed with great Ottawa Valley Country Music. The event is licenced and snacks are available during intermission. Tickets at $15 each are available at the arena office and at Carambeck Community Centre 351 Bridge Street Carleton Place as well as Graham's Shoes 139 Bridge St. Carleton Place; Nicholson's Sundries on Graham St. in Pakenham and Mark's Cobbler Shop 98 Gore St. E. Perth.
Date :
Sunday, October 15, 2017 from 12pm to 4 pm
Event location :
351 Bridge Street




Carleton Place

,

Ontario

K7C 3H9

Canada
Contact :
Phone contact: 613-253-5046
E-mail: bwhite@carletonplace.ca
……………………………………………………………………………….
Get Crafty – Library Craft Club
A craft club for adults The Library provides all of the supplies, you just come and craft!
Date :
Monday, October 23, 2017 from 6:30 pm to 7:30 pm

Event location :
Carleton Place Public Library,
101 Beckwith St, Carleton Place, ON K7C 2T3, Canada
……………………………………………………………………………….
Iode Annual Fall Craft Show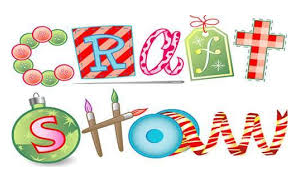 On October 28th, 2017 enjoy the annual charity event hosted by the Captain Hooper Chapter of the IODE. It features a full day of crafts from 10 a.m. to 3 p.m. in the Carleton Place Arena-Upper Hall.
Admission is free and there are door prizes. A homemade lunch will be served after 11:30 a.m. The show features 40 tables of crafts from eastern Ontario and the local area including charcoal, art pastel and pencil drawings, jewellery, photography, quilted items, handmade bags, assorted teas and spices, candles, Christmas decorations, stained glass, chocolate, honey, jams, garlic, emu products, and much more. Get a great start on your holiday shopping and decorating!
Date :
Saturday, October 28, 2017
Event location :
Carleton Place Arena
75 Neelin Street, Carleton Place
Contact :
Phone contact: 613-257-2269
……………………………………………………………………………….
Trick or Treat Day 2017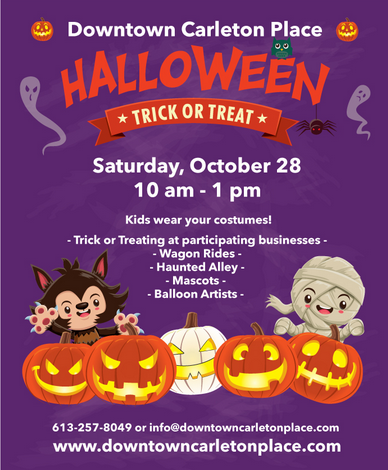 This day is all about the kids! Old fashion trick or treating in our BIA. The event starts at 10:00 am and ends at 1:00 pm.
Kids Wear your Costumes!
Trick or Treating at Participating Businesses
Wagon Rides
Haunted Alley
Other Surprises
Date :
Saturday, October 28,2017 from 10 am to 1 pm
Event location :
At Participating BIA Businesses
136 Bridge Street
Carleton Place, ON
K7C 2V5
Contact :
Website: http://downtowncarletonplace.com/downtown-trick-or-treat-day/
……………………………………………………………………………….