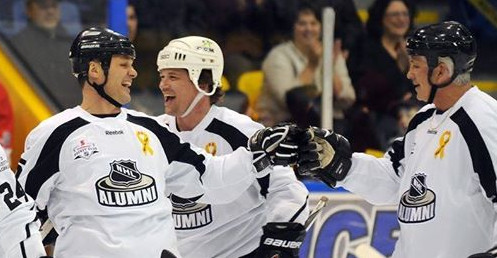 Presented by Scotiabank, the NHL Alumni will face off the Law Enforcement All Stars to raise funds for the Law Enforcement Torch Run for Special Olympics.
The NHL Alumni Tour has proudly hosted hockey legends such as Walter Gretzky, Wendel Clark, Curtis Joseph, Tiger Williams, Theo Fleury and many more!
The Scotiabank NHL Alumni Benefit Tour gives fans a unique experience and an evening to remember that showcases top shelf hockey skills, on ice pranks and old fashioned hockey nostalgia. This great evening provides something for fans of all ages and gives you an exciting opportunity to see a lighter side of these hockey greats while raising money for a great cause.
Date :
Sunday, March 18, 2018 from 1pm to 4pm
Event location :
Carleton Place Arena
75 Neelin Street
Carleton Place, Ontario Canada
Contact :
www.benefithockey.com or 1-844-363-0500 or 613-257-1690