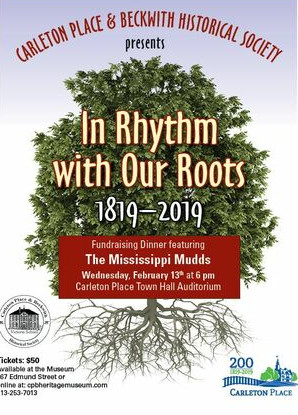 We are getting ready to host our 7th annual fundraising Heritage Dinner! To kick off the Carleton Place 200th celebrations in style we are presenting "In Rhythm with Our Roots". It's a night to gather together for a meal, have fun, and celebrate our history!Our Master of Ceremonies Linda Seccaspina, together with members of the Mississippi Mudds, will guide us on a musical journey through time as we recall local historic events as seen from the Mississippi River's point of view! That river has seen a lot in 200 years!"In Rhythm with Our Roots" takes place Wednesday, February 13, 2019 at the historic Carleton Place Town Hall Auditorium. Doors open at 5:30 with cocktails from 6 to 7, followed by a Roast Beef buffet dinner prepared by Leatherworks Catering. Along with historical displays there will be a silent auction featuring fabulous Valentine themed items. This is a great opportunity to get your sweetheart something unique!
Look for door prizes too!This annual event is our major fundraiser of the year, and raises much needed funds to continue the work we do collecting, safeguarding and sharing our local history. All funds raised will assist in the Society's operation of the Carleton Place and Beckwith Heritage Museum. Since 1988 the Museum has been the town's main trustee of local history. As a non-profit organization, we rely on the community's generous support to maintain our work, especially as we embark on our community's historical milestone 200th year.
Tickets are $50 per person and may be purchased by cash at the Museum or by etransfer to cpbmuseum@outlook.com. Tax receipts will be issued and available for pickup at the door.
Date : Wednesday, February 13, 2019
Event location :
Contact : Carol Millar at 613-253-7013 or cpbmuseum@outlook.com