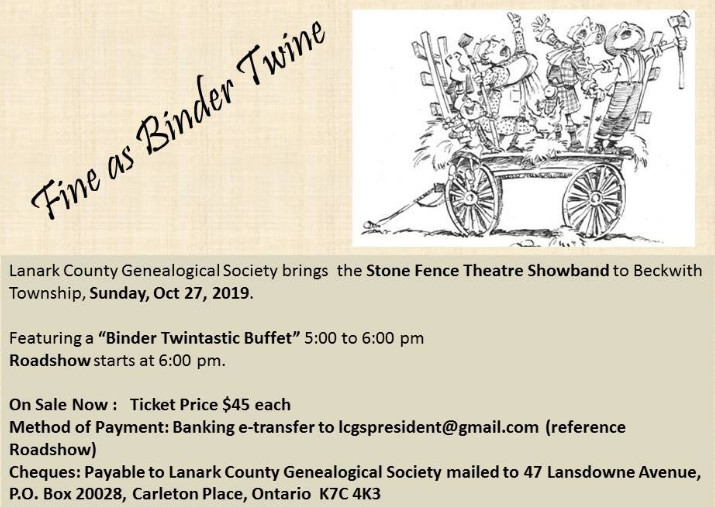 A Lanark County Genealogical Society event.
Come to the Beckwith Township Public School on October 27th for the Stone Fence Theatre Showband Performance! This year the Showband performs Fine as Binder Twine, a show full of comedy, fun, great music and memories of shows from the company's 15 years of existence.
If you loved "The Train," "Hippies Up the Line!," "The Heart Institute," "Say Moo!," Joan Finnigan, Mac Beattie, Here to Stay!, Valley Tales from the Summer Kitchen, and other past shows, you'll love this one.
Fine as Binder Twine features an all-star cast of Stone Fence veterans: Peter Brown, Evan Burgess, Chantal Elie-Sernoskie, Ambrose Mullin, Fran Pinkerton, Derek Tolhurst and Ish Theilheimer.
Beckwith Public School
Sunday, October 27, 2019th
(seating for 200 people)
1523 9th Line of Beckwith Carleton Place, ON K7C 3P2
Doors Open at 4:00 pm;  Buffet starts at 5 pm;  Roadshow starts at 6 pm. Parking is free.
Price includes a "Binder Twintastic Buffet" (Leatherworks Catering)  Octoberfest style BBQ with menu items which include  Chicken, Vegetarian, German Sausage, Beef Burgers, Salads, Homemade Desserts, etc. included.
When purchasing ticket please advise on special dietary needs
Purchase your ticket (3 options)                    Price $45 each (HST included)
Children; aged 6 to 12; $6;    under age 6 FREE
Wire/ E-transfers completed by email transfer from the purchaser's bank account to the LCGS Bank. The email address for your ticket purchase to LCGS is lcgspresident@gmail.com. This option allows you to purchase an individual ticket or a group of tickets with only one transaction. Please reference Roadshow and the number of tickets purchased
Credit card, please email or contact our President lcgspresident@gmail.com for further information and requirements for completing this type of payment transaction.
Email address: lcgspresident@gmail.com or  Phone (343)-262-2772
By mail:  LCGS accepts cheque or money order (CAD funds)
Cheque Payable to Lanark County Genealogical Society
Date :
Sunday, October 27, 2019
Event location :
Beckwith Public School
1523 9th Line of Beckwith,
Carleton Place, ON