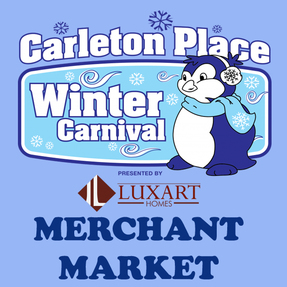 This year's Carleton Place Winter Carnival promises to be big and better than ever before! Some highlights will include: Merchant Market, chili lunch, musical performances, horse-drawn trolley rides, broom ball, shoot the puck, old-fashioned carnival games, free play zone, circus school, face painting, balloon animals, strolling performers and of course, not to forget, our Carnival Express.
Everything is FREE, with the exception of food items and merchandise inside the Merchant Market.
For additional information: www.cpwintercarnival.com
2016 SCHEDULE OF EVENTS – FEBRUARY 20TH, 2016
Merchant Market
Inside CPHS Gymnasium from 10:00am-3:00pm
With over 30 vendors, you will not be disappointed with the nice selection of crafters, bakers, artisans and home-based businesses. Come in, out of the cold and take a browse around and support some local vendors!
To register as a vendor, click here!
Runamok Amusements
Outside in Chilly's Funland from 10:00am-4:00pm
Runamok Amusements will be joining us with a fantastic line-up of food and snack items. Cotton candy, popcorn, hot dogs, kettle chips, nachos, candy apples and more!
Circus School
Inside in the Canoe Club from 10:00am-3:00pm
Head into the Canoe Club and step into the Circus Ring! Join our friends from Orbital Talent who will be teaching the skills and thrills of being a circus performer! They will also be hosting fun demonstrations for you to watch and ask questions about too! To top it all off, each participant will receive an "Honorary Circus Performer" certificate to take home! Don't miss out on the fun inside the Canoe Club!
ALL ABOARD!!! The Carnival Express
Running all day from 10:00am-4:00pm
We are thrilled to add this attraction for kids big and small. This train will take you on a short detour through and around the carnival grounds! Completely FREE and running all day from 10am-4pm. Look for the train station when you arrive to the Carnival!
Horse Drawn Trolley Rides
Running all day from 10:00am-4:00pm. Pick-up/drop-off on corner of Hawthorne and John St and heading to OPP Outdoor Rink at 15 Coleman St.
Estimated to run every 30 minutes. Completely FREE to ride. Take a tour through a small part of Carleton Place from the Carnival and go and watch some Broomball at the OPP outdoor rink or play some hockey with some police officers!
Broom Ball
At OPP Outdoor Rink (15 Coleman St) from 10:00am-11:00am and 2:00pm-4:00pm
There will be 3 exhibition games to watch, so come out and learn all about broom ball. For those who wish to play and test out your skills, you MUST bring a helmet with a cage on it. Knee and elbow pads are also recommended. All other equipment will be supplied.
High Striker
Outside in Chilly's Funland from 10:00am-4:00pm
Swing the hammer and try to hit the bell! Can you do it?
Magic Mirrors
These fun, magic mirrors can make your arms look like spaghetti and your feet the size of pumpkins.
Chilly & Peskie
Outside in Chilly's Funland from 10:00am-4:00pm
Peskie, our friend from Mount Pakenham will be joining Chilly periodically during the day. You may just catch a glimpse of them and if you do – make sure to give them a HIGH FLIPPER and pose for a picture!
Midway Fun
Outside in Chilly's Funland from 10:00am-4:00pm
Lots of fun midway games to try out. Flippin' Frog, Milk Jugs and Swing Ball, to name a few!
Circus Themed Photobooth
Outside in Chilly's Funland from 10:00pm-4:00pm
Step under the big top and have some fun. Circus themed goodies will be there waiting for you and your imagination. Bring your cameras!
Beavers Campout
Outside in Chilly's Funland from 10:00am-4:00pm
Join the members of Carleton Place Scouting at their campsite. Sing along to some traditional camp out songs and learn all about knots. They will have hot chocolate and coffee for sale and you can check out their display of their year of scouting
Log Carving Demonstration
Outside in Chilly's Funland from 10:00am-4:00pm
Come and watch Billy Mountain's Travelling Chainsaws carve up a beautiful circus themed creation! One lucky person will get to win the creation at the end of the day.
Shoot The Puck
Outside in Chilly's Funland from 10:00am-4:00pm
Hosted by Carleton Place Minor Hocky Association, come out and see what you've got against one of the Kings! Can you score against them?
Obstacle Races & Tug Of War
Outside in Chilly's Funland from 10:00am-4:00pm
Hosted by Hollywood/Fit Mom/Fit, Carleton Place
Do you have what it takes to make it through Hollywood Fit's obstacle challenge?! Be the fastest team in one of two categories (single kid or parent/kid team) and walk away with bragging rights and a sweet winner's package
Boardgames
Inside CPHS Cafetorium from 10:00am-4:00pm
Come in, out of the cold to play a game of cards or grab your friends and play a boardgame!
Face Painting / Balloon Animals
Inside in the Canoe Club from 10:30am-1:30pm
Come in to the Canoe Club to get a FREE face painting and/or balloon animal by Korny Klowns Entertainment!
Chili Lunch in support of CPHS Band
Served inside CPHS Cafetorium from 11:00am-1:00pm
Sit down to a nice, hot bowl of chili. *profits from lunch goes to the Carleton Place High School Band
Carleton Place High School Band
Performing inside CPHS Cafetorium from 11:00am-1:00pm
Sit down in the CPHS Cafetorium to enjoy a performance from some members of the CPHS band!
Jack Denovan
Outside stage from 11:00am-4:00pm
Ringmaster, DJ, Emcee, Superstar, Jack Denovan will be joining us once again this year to give you updates on the days events and keeping our performers in check and on schedule! Thank you Jack for coming back for the 2nd year in a row. Always so much fun having you part of the Carnival!
Hockey & Skating Fun
At the OPP / Ocean Wave Detachment (15 Coleman St) from 11:00pm-2:00pm
Brought to you by the Carleton Place OPP and Carleton Place Minor Hockey. Visit the Carleton Place OPP outdoors rink to take part in some hockey and skating fun! Members of the OPP will be on site for some skating and community hockey games along! Cheer on participants of the timbits hockey league as they play a fun game from 12:00pm – 12:30pm and learn about registration for minor hockey!
Andrew McDougall
Performing on our outside stage from 11:00am-11:45pm
Songs for the whole family (really)!
Niveus Siberians – Dog Sledding
Outside in Chilly's Funland from 12:00pm-4:00pm
Niveus Siberians will be stopping by the Carnival between 12pm-4pm with their Champion and Titled Sled dogs. Meet the whole team and then watch as these magnificent pups put on some sledding demos. Be sure to meet their owner and trainer, Jenn Rollinson and find out all about this traditional sport!
Zip-E The Clown
Performing on our outside stage from 12:00pm-12:45pm
On Stage he is a musical combination of comedy, magic, family fun and pure entertainment. he does what he does in his word of clown and his audience participates while sharing in the imagination of what it is to be a circus clown.
Bingo
1:00pm-4:00pm at the Carleton Place Arena, Upper Hall (75 Neelin St)
Brought to you by the Carleton Place Civitan Club. There will be tea, coffee, soft drinks, chips and a light lunch – and of course, BINGO! *Must be 18 years old to play. All proceeds goes to the Civitan Club, who donate it back into our community!
Starfire
Performing on our outside stage from 1:30pm-4:00pm
Starfire is a 6-piece, high energy party band that has been performing in the Ottawa area since 2004. Their musical style ranges from Classic Rock, Pop, Disco, R&B, Country to Reggae. They bring their audience an energetic performance with danceable, well arranged music, coupled with exceptional vocals.
Cork'n Brush
Inside Canoe Club from 1:30pm-2:30pm and 2:45-3:45
Come join Sonya from The Cork'n Brush to paint a circus masterpiece. Open to anyone 8+. Everything is included, including the canvas, paint, glitter, brushes and aprons. Each class lasts about 60min and best of all, it's FREE! You MUST pre-register for this as seating is limited to 20 per class.