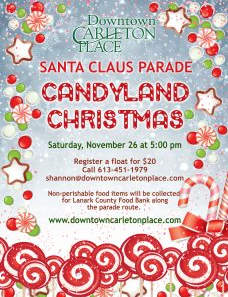 Hailed the largest Santa Claus parade in the Ottawa Valley you can join thousands of spectators to watch hundreds of sparkling floats lit by LED bulbs as the Business Improvement Association hosts its annual evening parade on November 26th, 2016.
The parade begins at 5 p.m. at Carambeck School and travels up the town's main thoroughfare Bridge Street. After Santa's sleigh passes through the town spectators can congregate at the Carleton Place and District Memorial Hospital for hot chocolate, caroling and the annual Christmas tree lighting ceremony. Proceeds support the Lanark County Food Bank.
A completed participant registration form and payment of  $20 will secure your place in the Candy Land Christmas Parade.
New for 2016! You can also register on-line:
•    Print the Santa Claus Participant Registration form.
•    Complete the form with your entry and contact information.
•    Scan and email the completed registration form to shannon@downtowncarletonplace.com.
•    E-Transfer payment ($20) to shannon@downtowncarletonplace.com.
You can also drop by the Downtown Carleton Place office:
•    If paying by cheque, please make it out to the "Town of Carleton Place"
•    Office hours are Monday to Friday 9 am – 1 pm.
Event location :
Bridge Street, Bridge St,
Carleton Place, ON, Canada
Contact :
For further information information please call Shannon at 613-257-8049 or visit www.downtowncarletonplace.com