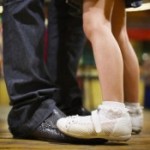 Just in time for Valentine's Day, Celebration Parks & Recreation is pleased to announce our annual Father Daughter Dance taking place February 10, 2012, themed "Under the Sea!" Join us for a special evening where fathers and their daughters can dance the evening away on the ocean dance floor. So bring out those dancing shoes and make sure you reserve your tickets to the ball!
Registration closes on Tuesday, February 7 and is limited to the first 200 tickets sold. This very popular evening is expected to sell out, so be sure to purchase your tickets early. Sweet treats and light refreshments will be provided. Another relative is welcome if Dad is not available to attend.
Reservations can be made at Town Hall (851 Celebration Avenue). For more information, please contact Parks & Recreation at 407-566-1200.