Come and meet Suzy Toronto Artist and Author of The Sacred Sisterhood of Wonderful Wacky Women.
She will be at the Market Street Gallery on October 16th from 1-3 pm.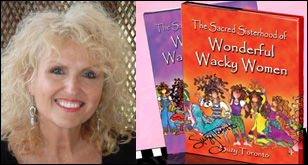 There will be 10% off all sales, along with silent auctions. Proceeds go towards breast cancer awarness with Susan G. Komen. Free gift with purchase. With a $5 donatin, you'll get a bracelet for discounts throughout Celebration. There will be a time of honoring several breasst cancer survivors.