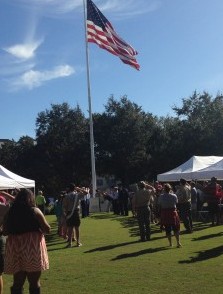 This memorable occasion, held at the Veterans Memorial at Founders Park, recognizes the men and women who serve in our U.S. military services and honors those whose memories are in our thoughts. The Celebration Veterans Group proudly displays each military service's flag. Boy Scout Troop 125 serves as color guard and performs the annual replacement of the U.S. ceremonial flag. The Celebration Community Chorus performs appropriate musical selections.
The Memorial Day Flag Ceremony will take place at Founders Park on Saturday, May 28  beginning at 10 a.m. This heartwarming event honors a military family who has lost a loved one.
This event is put-on in conjunction with the: Celebration Veterans Group, Celebration Community Chorus, Boy Scout Troop 125, Cub Scout Troop 125, Girl Scouts, and the Garden Club of Celebration.
Date :
Saturday, May 28, 2016, 10 a.m
Location event :
Founders Park