Happy Labour Day!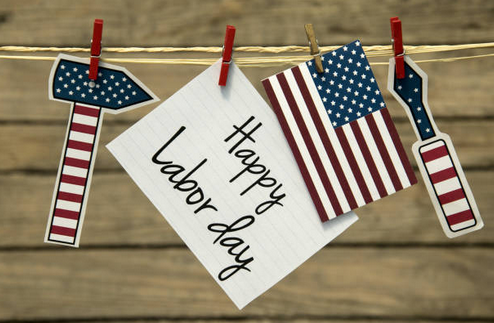 Labour Day (Labor Day in the United States) is an annual holiday to celebrate the achievements of workers. For most countries, Labour Day is synonymous with, or linked with, International Workers' Day, which occurs on 1 May.
In Canada and the United States, Labour Day is celebrated on the first Monday of September and considered the unofficial end of summer, with summer vacations ending and students returning to school around then.
The form for the celebration of Labor Day was outlined in the first proposal for the holiday: A street parade to exhibit to the public "the strength and esprit de corps of the trade and labor organizations", followed by a festival for the workers and their friends and families. This became the pattern for Labor Day celebrations. Speeches by prominent men and women were introduced later, as more emphasis was placed upon the civil significance of the holiday. Still later, by a resolution of the American Federation of Labor convention of 1909, the Sunday preceding Labor Day was adopted as Labor Sunday and dedicated to the spiritual and educational aspects of the Labor movement.
Labor Day is called the "unofficial end of summer" because it marks the end of the cultural summer season. Many take their two-week vacations during the two weeks ending Labor Day weekend. Many fall activities, such as school and sports begin about this time.
Date :
Monday, September 4, 2017 | all day
Event location :
Celebration, FL
………………………………………………………………………………………
September Food Truck Friday
Dine under the stars with your friends and family at this month's Food Truck Friday event! Our food truck lineup will include TJ's Seafood, Korean Taco Box, The Big Cheese, Caro-Bama BBQ, Feed Your Face, Treehouse Truck, Cheesesteak Phactory, Saigon Sizzle, Twisted Cuban, Monsta Lobsta, Wild, Kona Dog, Yum Yum Cupcake, Sweet City Gelato.*
Stay tuned for information on our very special twist on Food Truck Friday in October… You won't want to miss it!
Please note: Most food trucks accept cash and credit cards. There will be limited tables and chairs available, so you may want to bring your own blanket or chairs to make sure you have a comfortable place in line. These are some of the best food trucks around and they will be sure to draw in lots of hungry people. *Participating food trucks are subject to change without notice.
Date :
Friday, September 13, 2017 from 5 to 9:30 pm
Event location:
851 Celebration Ave, Celebration (Floride) 34747
Contact:
Phone contact: +1 407-566-1200
Website: www.celebration.fl.us
………………………………………………………………………………………
Celebration Farmer's Market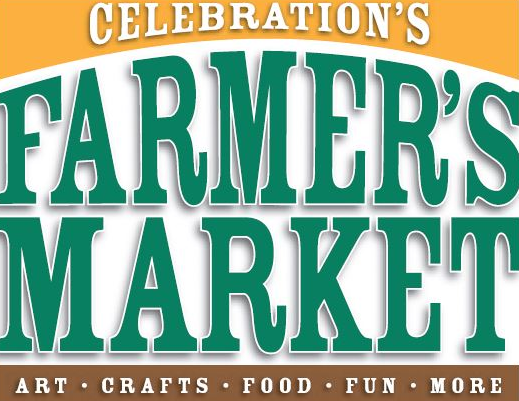 The Celebration Farmer's Market is located at Lakeside Park, 631 Sycamore Street. Peruse the wide variety of food and craft vendors each week for the freshest fruits and vegetables, fun arts, crafts and much more.
Date :
Sunday, September 17 and 24, 2017 from 9 am to 2 pm
Event location:
Lakeside Park, 631 Sycamore Street
Contact:
Karen Ford
Phone contact: 407-460-8337
email: spud.market@yahoo.com
………………………………………………………………………………………
Knights of Columbus

Join the Knights of Columbus from Corpus Christi Catholic Church for their monthly bingo. Bingo is held on the third Wednesday of each month at Town Hall. The Knights of Columbus is open to any Catholic gentleman in good standing, over the age of 18 years old.
Date :
Wednesday, September 20, 2017 at 6:30 pm
Event location:
851 Celebration Ave Celebration Ave,
Celebration, FL 34747, United States
Contact:
Phone contact: +1 407-566-1200
Website: http://corpuschristikofc.org/
………………………………………………………………………………………
Good Neighbor day
Town Hall to recognize National Good Neighbor Day
Each year on September 28, neighbors across the United States celebrate National Good Neighbor Day. This day was created to acknowledge and celebrate the importance of a good neighbor.
In honor of that day and all of the GREAT neighbors right here in Celebration, Town Hall will say 'thanks' in their own way. Our Celebration neighbors are invited to stop by outside Town Hall on Thursday, September 28 for a complimentary hot dog and a heartfelt thank you. Members of Town Hall will be distributing hot dogs (appropriate condiments will also be available) between 3:30 – 6 p.m., or while supplies last.
Good neighbors often become friends, they watch out for each other, lend a helping hand and are there for advice when asked. Neighbors are there when we need to borrow something, to get our mail for us when we are on vacation, to watch our homes and sometimes to watch our children and our pets as well as the many other things we do with our neighbors.
To celebrate National Good Neighbor Day, do something nice for your neighbor today. Use #NationalGoodNeighborDay to post on social media.
Date :
Thursday, September 28, 2017 at 3:30 pm
Event location:
Celebration Town Hall
Contact:
851 Celebration Avenue
Celebration, FL 34747
Phone: 407.566.1200
Email: town.hall@celebrationtownhall.com
Website: http://www.celebration.fl.us
………………………………………………………………………………………
Tea with Julie
Julie Carrier is an award winning speaker, author and role model. She is recognized for her work in promoting youth leadership and self-esteem in young women. Julie is a success coach on MADE, MTV's #1 hit positive goal setting show, and the author of BeYOUtiful and Girls Lead.
Tickets are $10.00. CLICK HERE to purchase your ticket.
Date :
Friday, September 30th, 2017 – 3 to 4:30 pm
Event location:
Celebration Town Hall
851 Celebration Ave.
Celebration, FL 34747
Contact:
Phone contact: (407) 566-1234
E-mail: staff@thecelebrationfoundation.org
Website: http://thecelebrationfoundation.org
………………………………………………………………………………………
Arts & Wine Stroll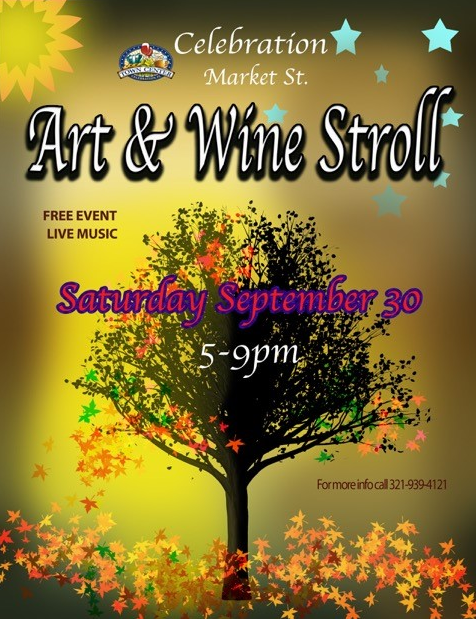 Saturday, September 30, 5 – 9 p.m. Market Street in Celebration is dotted with a wide array of talented artists displaying their artwork. You will see everything from pottery, photography, wood boxes, paintings-oil, watercolors and acrylics as well as a wide variety of jewelry and crafts. Imperium Food and Wine will have wine, sangria and beer for sale. This is a free event, come one come all!
Market Street will close on Friday, September 29 at 10 p.m. and will remain closed through the Art Stroll on Saturday and should reopen by 10 p.m. on Saturday.
Date :
Saturday, September 30, 2017 | 5 to 9 pm

Event location:
Celebration Market Street
Celebration, FL
………………………………………………………………………………………