Alfa Romeo Car Show 2017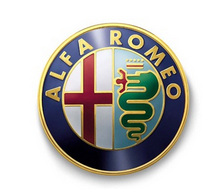 Annual car show is presented by the Mid Florida Alfa Romeo Owners Club and features cars from all over Florida. Saturday, November 4, 10 a.m. – 3 p.m., Market Street in Celebration.
Dustin Hoffman immortalized the beauty and freedom of the Alfa Romeo "boat tail" Spider in the 1967 Oscar winning film, The Graduate, and from then on Americans fell in love with affordable, fun to drive Italian sports cars. Pininfarina, designer of the gorgeous Ferrari 250 GT, designed the Alfa Romeo Spider and the Fiat 124 Spider. Recently Alfa Romeo introduced their new supercar the 4C Coupe and this year Fiat introduces a new Fiat 124 built in cooperation with Mazda.
So if you love vintage Italian cars don't miss Viva Alfa Romeo Car Show 2017. Head to Market Street, in the heart of downtown Celebration, Florida, on Saturday, November 4th when from 10 am until 3 pm the street will be filled with vintage Alfa Romeo, Fiat and Lancia classic cars such as: the Alfa Romeo Giulia Sprint GTA, Alfa Romeo Junior Zagato GT 1300, Alfa Romeo 2000 GT Veloce, Alfa Romeo Giulietta Spider, Fiat 124 Spider, Fiat 128, Fiat 850 Familiare, Lancia Monte Carlo Series, Lancia Fulvia Coupé and many more.
The annual car show is presented by the Mid-Florida Alfa Romeo Owners Club and features cars from all over Florida. Visitors can speak with owners and get up close and personal with vintage sports cars. And of course downtown Celebration also offers lots of great places to eat or just enjoy a coffee or ice cream. Alfa Romeo and Fiats left an imprint for many who grew up during the Sixties, Seventies and Eighties and today they are affordable collectible Italian sports cars. So if you're the proud owner of an Alfa Romeo, Fiat or Lancia enter your car in the show or if you're a car enthusiast bring the family and enjoy a day filled with vintage Italian sports cars at a wonderful location.
Date :
Saturday, November 4, 2017
Event location:
Downtown Celebration, FL
Contact:
Website: http://alfafla.com/
………………………………………………………………………………………
Founders Day in Celebration
Fun and entertaining for the entire family as Celebration celebrates its 21st anniversary. The weekend kicks off on Friday evening with a concert exclusively for residents by the Lovin' Spoonful on the Great Lawn.
On Saturday its our annual Founders Day parade through town beginning at 10 a.m., followed by the Veterans Day ceremony at Founders park at 11 a.m. At 12:30 p.m. its time for the town photo at Lakeside Park, followed at 1 p.m. by the annual town picnic. There will be games and fun for the entire family. This is a resident only event and a valid CROA ID will be required.
Date :
Friday, November 10 to Saturday, November 11, 2017
Event location:
Celebration, FL
………………………………………………………………………………………
Community Picnic & Family Fun
Join your friends and neighbors for this resident exclusive gathering as part of Founders Day Weekend. Catch up with old friends and introduce yourselves to new neighbors at the town picnic. Be sure to stick around and enjoy the games and interactive activities.
Date :
Saturday, November 11, 2017 at 1 pm
Event location:
Lakeside Park
………………………………………………………………………………………
Beauty and the Beast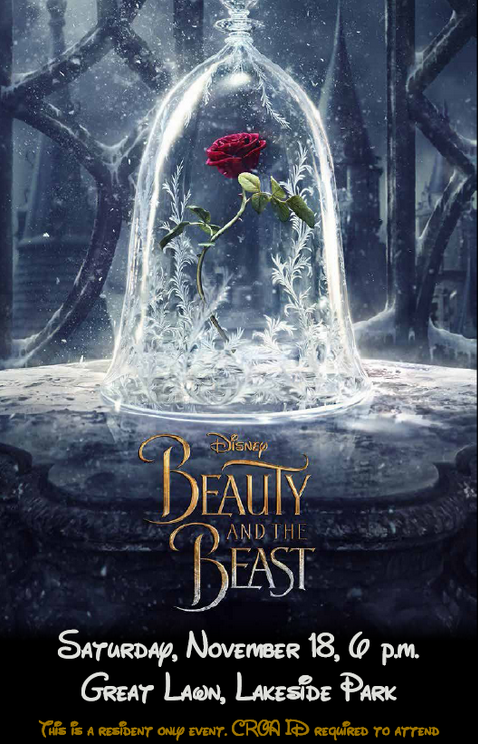 Date :
Saturday, November 18, 2017 at 6 pm
Event location:
Great Lawn, Lakeside Park
………………………………………………………………………………………
Now Snowing | 2017 Edition
Nightly Snow Falls at 6, 7, 8 and 9 PM. Photos with Santa, Strolling Holiday Carolers, an Ice Rink, Entertainment and more!!!
A Celebration tradition! Join Celebration Town Center as they kick off 19th Annual Now Snowing event with a Tree Lighting Ceremony on November 25th from 5:30-9 PM. This special tree lighting event will feature live music, a special entrance by Santa Claus himself, and family fun for everyone.
Now Snowing, Central Florida's original and premier "Snowing" event, offers a new snowfall program, an ice rink and a schedule filled with surprises. Now Snowing is a month-long Winter Wonderland Spectacular featuring strolling Charles Dickens Carolers, community performers, photos with Santa, horse drawn carriage rides, the Celebration Express train, and nightly snowfall at 6:00, 7:00, 8:00 and 9:00 PM.
The ice rink will be open daily from 4:00-10:00 PM through January 1st – Make sure to ask about Celebration Resident Skate Passes or multiple-day skate passes for guests (after November 26th ).
Event schedule:
Nightly Snowfall 6, 7, 8 and 9 PM November 25th through December 31st. *

Endless Ice-Ice Skating Rink
$10.00 for a 1/2 hour minimum skate (skate rental included)
4:00-10:00 p.m. daily
Horse and Carriage Rides
Wagon Rides- $5.00 per person
Horse and Carriage Rides- $45 ( includes up to 4 passengers), $10 each additional
Horse and Carriage Rides (Cinderella Carriage)- $65 (includes up to 6 passengers)

Photos with Santa
(prices depends on package purchased)
Santa only in until December 24th.
Train Rides
$5.00 at the Gate or
$4.00 in advance if purchased at Market Street Gallery, or Sweet Escape. (Before 4 p.m. Nightly)
Date :
Saturday, November 25, 2017
Event location:
Celebration, FL
Contact:
Celebration Florida Office
610 Sycamore Street Suite 210
Celebration Florida 34747
(407) 566-4007
info@celebrationtowncenter.com
Website: http://celebrationtowncenter.com
………………………………………………………………………………………