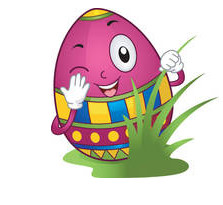 The Annual Great Egg Hunt will take place on Saturday, March 31 at Spring Park and Heritage Hall. As always, this event is designed for children up to 10 years old and will be separated by age groups to provide the best and safest experience for all of the egg "hunters."
Participants should bring their favorite basket for the egg collection and be ready to have a hoppin' good time! 20,000 eggs will be available for the taking and a DJ will provide music and entertainment for everyone. There will also be a photo opportunity with the Easter Bunny, so don't forget to bring your camera. Please be sure to be on time as the egg hunts will adhere to the schedule below.
The Great Egg Hunt will be separated into four age groups:
8:45 a.m. • 0-23 mos. (playground area)
9 a.m. • 2-4 yrs.
9:15 a.m. • 5-7 yrs.
9:30 a.m. • 8-10 yrs.
NOTE: This is a resident-only event, so you must have a valid CROA ID to enter.
Date : Saturday, March 31, 2018 at 8:45am
Event location : Spring Park, 951 Spring Park St, Celebration, FL 34747, USA