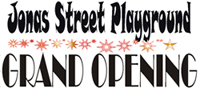 You are invited to the Jonas Street Playground Grand Opening. Come out and celebrate! The Lyndhurst Rejuvenation Committee as well as Hydro One, Thousand Islands CDC and the Township of Leeds & 1000 Islands are proud to be cutting the Ribbon at 11am on Saturday October 30th. If there is rain the date is moved to Sunday. The committee has worked exceptionally hard at fundraising and planning to make this playground a reality for the youth of Lyndhurst and visitors.
There will be refreshments, Prickles the Clown, a basketball shoot competition and tones of prizes and treats!
Enjoy the warmer weather while it lasts and come out to the Jonas Street Playground.