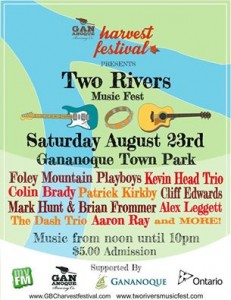 Can't get enough summer concerts in before September? Here's one more to add to your list, the Two Rivers Music Fest – a day long musical showcase and community gathering in downtown Gananoque. Featuring the best local talent, Two Rivers works with the Town of Gananoque, the Gananoque BIA, and Gananoque Brewery to create a fun and exciting atmosphere in celebration of our unique community.
Come to beautiful downtown Gananoque on Saturday, August 23 and enjoy great food and music. The first annual Two Rivers Music Fest is an exciting and family friendly event created to celebrate our unique community and the talent that lives here.
All ages welcome and donations accepted for admission.
Line up to date:
12:00 – Aaron Ray
1:00 – TBA
2:00 – Cliff Edwards
3:00 – Patrick Kirkby
4:00 – Alex Leggett
5:00 – Foley Mountain Playboys
6:00 – Colin Brady
7:00 – Mark Hunt & Guests
8:00 – Special Electric Guest
9:00 – Special Guest
Admission Details: $5.00 Admission Wristband Website: http://www.tworiversmusicfest.com Contact Name: Alex Leggett & Kristina Miller
Email: alexanderleggett@hotmail.com Contact Phone: 647-269-1536