"The purpose of life is to live it, to taste experience to the utmost, to reach out eagerly and without fear for newer and richer experience." – Eleanor Roosevelt
The 1000 Islands Adventure package includes:
A non-smoking room (on the same level for your easy access)
Continental buffet breakfast
A meal voucher to a local restaurant (so that you can also experience the town during your stay)
2.5 hour 1000 Islands Cruise (Gananoque Boat Line)
An exclusive 10 minute helicopter ride (Kouri's Kopters)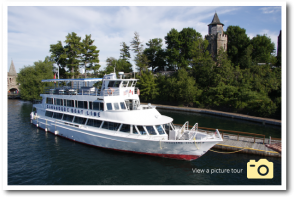 Become part of the great scenic 2.5 hour 1000 Islands Cruise – sit back, relax and let the Gananoque Boat Line take you on an exciting tour of the world famous 1000 Islands. The 2.5 hour tour is the most comprehensive of all the tour of the 1000 islands. Tour the Canadian and American sides of the river. Travel down the Seaway channel. Pass under both the Canadian and American spans of the 1000 Islands international bridge.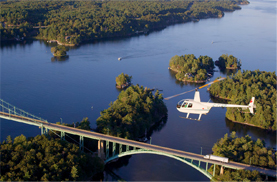 Take advantage of the bird's eye view of the 1000 Islands with an exclusive 10 minute helicopter ride supplied by Kouri's Kopters!
The rates vary according to dates, room type and package inclusions. Visit our ONLINE RESERVATION SYSTEM (https://reservations.1000islandtours.com/)to get your rate; or call us Toll Free at 1-800-267-9497 and allow our friendly front desk staff to help you plan your 1000 Islands Getaway!
Please Note: there are no double discounts and packages must be reserved in advance to avoid disappointment. Packages are subject to availability of the attraction and hotel. Rates and Packages are subject to change without notice. There are no refunds for unused portions of packages.
Book your 1000 Islands Adventure package today!