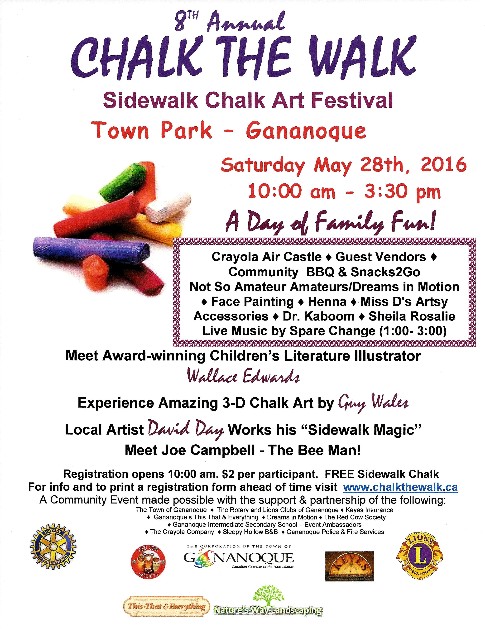 The date for the eighth annual Chalk the Walk festival has been announced! Join us in Gananoque on Saturday May 28th, 2016.
Our 8th year for this fun family event that is the community kick off to the arrival of Spring. Entertainment, Live music, BBQ, Air Castle, Face Painting,National Award-winning children's Artist/author Wallace Edwards, well-known local artist David Day and 3-D magic of Guy Wales and more! Come out and show off your Sidewalk Chalking skills!
Admission Details: Register at 10:00am. Each participant is $2.00 includes a package of sidewalk chalk, and a certificate of participation.
Highlights this year include:
– Meet Award-winning Children's Literature Illustrator Wallace Edwards
– Experience Amazing 3-D Chalk Art by Guy Wales
– Local artist David Day works his "sidewalk magic"
– Meet Joe Campbell – The Bee Man!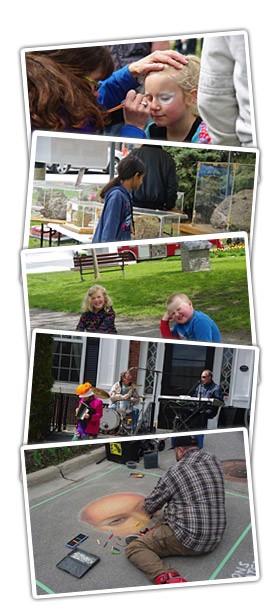 About Chalk the Walk
The seventh annual 1000 Islands International Sidewalk Chalk Art Festival was held May 23, 2015. It was a fun-filled family event showcasing art for all ages. Many types of art were on display, including sidewalk chalk art, paintings, drawings, and fine art. Visitors made their own art, enjoyed a good old-fashioned BBQ, and had their faces painted. There were special activities just for children.
To print-out the registration form, please click here.
Date :
Saturday, May 28, 2016 – from 10:00am to 3:30pm
Location event :
Gananoque Town Park 30 King Street East,at the  intersection of Park St. and King Street.
Contact :
Contact name: Jan Gravelle
Contact phone: 613-530-0922
e-mail: jangravelle@gananoque.com or info@chalkthewalk.ca
Website: http://www.chalkthewalk.ca/