1000 Islands Writers Festival


The 2017 Festival Pass provides access to opening night celebrations, Living Room Sessions, workshops and conversations for the whole weekend! Festival passes ensure savings of up to 30% off Writers Festival events. Festival pass holders have the opportunity to select their sessions in advance to ensure availability. Events are selected as part of the ticket sale purchase process. The Saturday morning brunch with authors of FEAST An Edible Road Trip, that includes a signed copy of the book and brunch with a beverage, is sold separately. Festival Passes will not apply.

Please click here to get your tickets or view the full programm of the Festival: https://www.eventbrite.ca/e/festival-pass-tickets-32996016975?ref=ecal
Date:
Friday, May 5 to Sunday, May 7, 2017 at 5 pm
Event location:
Gananoque, ON
Canada
Contact:
Website: http://1000islandswritersfestival.ca/
………………………………………………………………………………
Carolyn Fe, Acoustic @ the Royal Theatre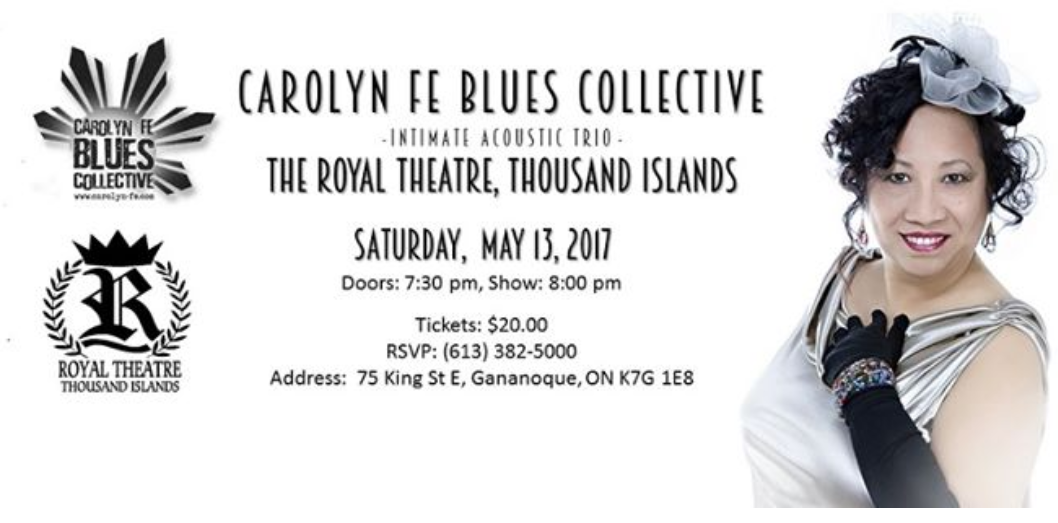 Carolyn Fe Blues Collective, Acoustic Trio steps up onstage at the newly renovated historic The Royal Theatre, Thousand Islands (formerly known as the Delaney Theatre) in Gananoque, Ontraio. We'll be offering you an acoustic trio.
Some history about the theatre: Built in 1930 by the Delaney family as a Vaudeville House, this all poured-concrete structure was one of the first "fire-proof" buildings ever conceived in North America. The Great Depression slowed the family's progress with their new theatre venture, however, and it was not until 1937 that the doors were opened to patrons. The venue hosted live acts and popular movies until 1960, when it was converted to a bowling alley. Proprietor and Founding Artistic Director Kevin John Saylor and Creative Partner Frayne McCarthy purchased the imposing old building in 2013 and proceeded to restore it to its original beauty. The spirit of community in Gananoque was immediately inviting, and the fact that the town was already a theatre destination (home of the Thousand Islands Playhouse) and very famous as the "Gateway to the Thousand Islands", made the revival an easy decision.
Tickets: $20.00
Date:
Saturday, May 13, 2017 at 8 pm
Event location:
Royal Theatre Thousand Islands,
75 King Street E.,
Gananoque, ON, Canada
Contact:
Carolyn Fe Blues Collective
Reservations and information: (613) 382-5000
Carolyn Fe Website: www.carolyn-fe.com
Theatre Website: http://royaltheatre.ca/
………………………………………………………………………………
Happy Mother's Day 2017!

Mother's Day is a celebration honoring the mother of the family, as well as motherhood, maternal bonds, and the influence of mothers in society. It is celebrated on various days in many parts of the world, most commonly in the months of March or May.
Background
Early Mother's Day celebrations can be dated back to the spring celebrations to honor Rhea, the Mother of the Gods, in ancient Greek civilization, according to some sources. Later, Mothering Sunday in the United Kingdom was traditionally a day for people to visit the church where they were baptized, although it now also celebrates motherhood in modern times.
Symbol
Early celebrations of Mother's Day originated from Canada's neighboring country, the United States. Carnations are a popular Mother's Day symbol in both Canada and the United States. Some people may choose to wear a carnation as a brooch on Mother's Day. However, other flowers are also given to mothers or mother figures to symbolize one's love and appreciation for them.
What do people do on Mother's day?
Many people remember their mothers and mother figures on Mother's Day.
Some people give cards, flowers, or chocolates, and/or make handmade items or special meals on Mother's Day. Others take their mothers or mother figures to the movies, a restaurant, café, or a day in a park. Some mothers and mother figures also receive special gifts such as jewelry, clothing, accessories, and gift vouchers for services or products.
Mother's Day falls on different days depending on the countries where it is celebrated. It is held on the second Sunday of May in many countries, such as Australia, Canada and the United States. It is held exactly three weeks before Easter Sunday in the United Kingdom. Sundays are usually non-school and non-working days in these countries.
Date:
Sunday, May 14, 2017 | all day
………………………………………………………………………………
Our H'Art – Shave Off for Noah Rochefort

Shave Off, BBQ & Silent Auction Table!!!
Good fun, good food, & shaving… wait, what!?
That's right, we'll all be at one place, at one time for all the shaves! Has anyone ever said to you "I'd pay to see that!", well offer them an opportunity!
Admission for non-shavers >> 1x Gas Gift Card per adult/couple
OR
Please pay-what-you-can cash donation.
Children are welcome and eat for free.
Date:
Saturday, May 27, 2017 at 1 pm
Event location:
Kaitlin and Scott's Home,
281 Haig Road,
Gananoque, ON, Canada
………………………………………………………………………………