Live music with Kevin Head

Fresh and local produce is available every Thursday in Town Hall Park! Come down and shop for produce, meat, baked goods, cut flowers, and more — and buy them all directly from your neighbours. Only locally produced goods are featured at the market, sold by the people who grew or made them.
Enjoy a picnic supper and live music from the park's bandstand during the market. The biweekly music feature this week is Kevin Head!
Date:
Thursday, August 3, 2017 | 4 – 7pm
Event location:
Gananoque Farmers Market,
30 King Street East,
Gananoque, Canada
Contact:
Website: http://www.gananoquefarmersmarket.ca/
………………………………………………………………………………
WIMF: Waterkeeper Showcase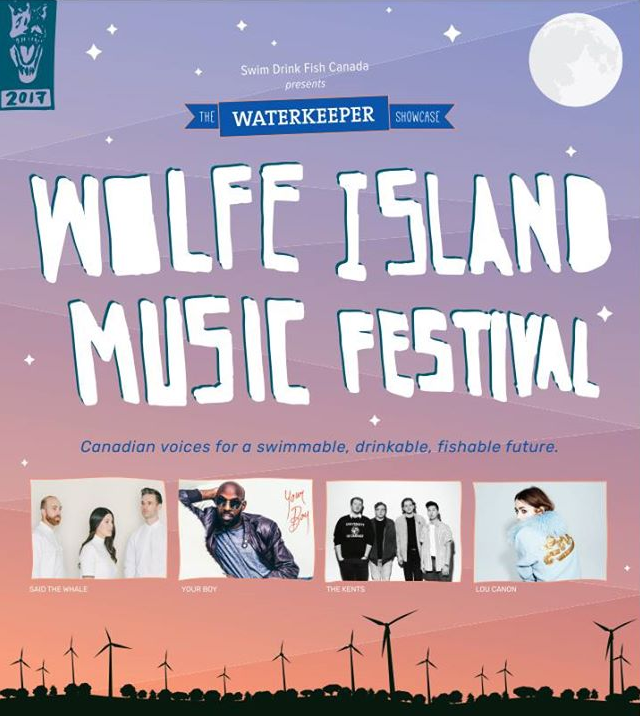 Swim Drink Fish Canada will present the Waterkeeper Showcase on the Main Stage of the Wolfe Island Music Festival on Friday August 11th.
To buy tickets or for more information please visit: www.wolfeislandmusicfestival.com
Featuring performances by:
Said The Whale
YOUR BOY
The Kents
Lou Canon
Swim Drink Fish, known locally as Waterkeeper, began on the shores of Wolfe Island over a decade ago. The movement works for swimmable, drinkable, fishable water for everyone.
The Waterkeeper Showcase at the Wolfe Island Music Festival 2017 will close off the seven week long Wolfe Island Culture Festival (June 23 – August 12) hosted by Waterkeeper with support from Ontario 150 to celebrate Great Lakes voices.
Date:
Friday, August 11, 2017 | 4 pm
Event location:
Wolfe Island, Gananoque, Canada
Contact:
E-mail: wolfeislandmusicfestival@gmail.com
………………………………………………………………………………
Rosie the Riveter sessions for Kids

This is going to be a super fun day for your kiddies! But be ready because we're going to bring out the confidence in your kid!
This marathon day will take place at Crappy Car Customs garage.
I will have at least 6 setups ready:
– car or bike
– Sitting on stool
– laying on rolling dolly
– Round tire
– Hanging motor
– Lolipop Corner 😉
This Session Includes:
– Custom hair style by Rapunzel Studio of Hair Design
– Custom pinup makeup by Rapunzel Studio of Hair Design
– Secret Facebook group add to discuss, get ideas for makeup, clothes, hair and get updates for this Pinup day
-5-7 Digital images emailed to you in high resolution and ready to print
– The opportunity to be in a 2018 Pinup Calendar (If parents allow 😉
– Print release
– Some Pinup accessories will be available on site
-Assistant on site to help with poses and small fixes to make things run smoothly.
* $25 off session price if you allow Lindsay Foster Photography to share one or more images on her Facebook, website and other.*
PRICE
$470 per One child plus tax
$120 each added child in the same session time
Date:
Sunday, August 13, 2017 | 9 am
Event location:
Lindsay Foster Photography – Pinup style and Rosie the Riveters,
77 Station Road, Gananoque, Canada
Contact:
Phone contact: 613-382-4551
E-mail: info@lfosterphotography.com
………………………………………………………………………………
Carolyn Fe at Gananoque's Royal Theatre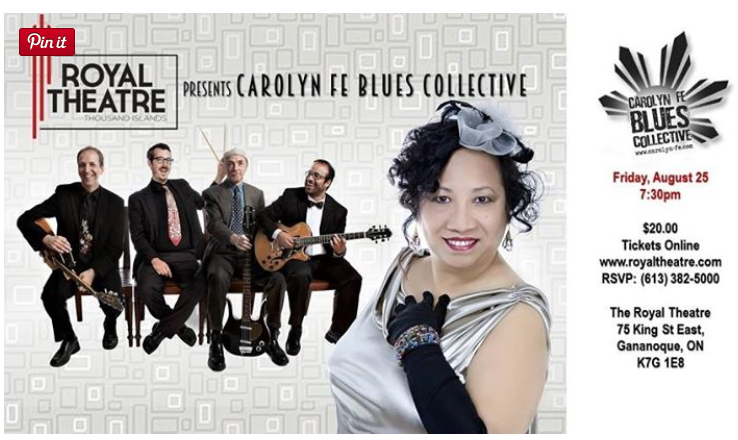 The last time Carolyn Fe Blues Collective, played the newly renovated historic The Royal Theatre, Thousand Islands was in an acoustic trio format. This time around get the FULL BAND experience! Songs from their award winning 3 albums, PLUS a sneak peak…errr, a sneak listen to a few more songs from their upcoming album! From the crowd's reactions the last time, you best get your tickets early because this time around, they'll sell out fast!
Some history about the theatre: Built in 1930 by the Delaney family as a Vaudeville House, this all poured-concrete structure was one of the first "fire-proof" buildings ever conceived in North America. The Great Depression slowed the family's progress with their new theatre venture, however, and it was not until 1937 that the doors were opened to patrons.
The venue hosted live acts and popular movies until 1960, when it was converted to a bowling alley. Proprietor and Founding Artistic Director Kevin John Saylor purchased the imposing old building in 2013. The spirit of community he discovered in Gananoque was immediately inviting, and the fact that the town was already a theatre destination (home of the Thousand Islands Playhouse) and very famous as the "Gateway to the Thousand Islands", made relocating an easy decision.
Tickets: $20.00 online purchases >> https://www.royaltheatre.ca/2017-season :: Reservations and information: (613) 382-5000
Date:
Friday, August 25, 2017 | 7:30 pm
Event location:
Royal Theatre Thousand Islands,
75 King Street E.,
Gananoque, Canada
………………………………………………………………………………
Elvis & Buddy Holly Tribute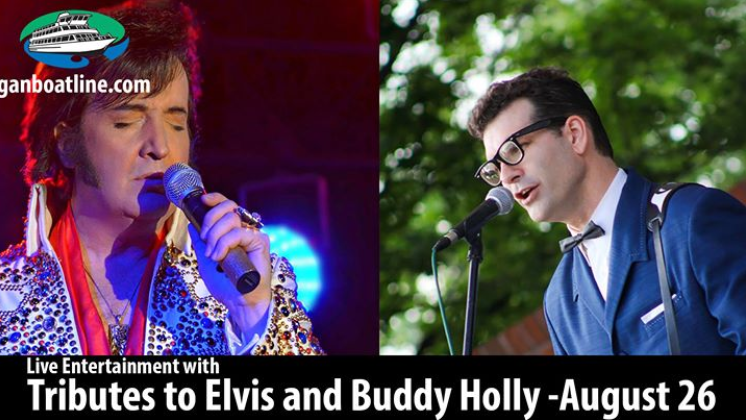 Gary Wesley has performed throughout the United States, Canada, Australia, Chile, and South America. He has performed with Las Vegas Productions such as Legends in Concert, American Super Stars, Legends Alive and many others. 2016 is Garry's 28th year performing at Alfred's on Beale Street. He has performed with the Legendary Jordanaires, The Blackwood Brothers Quartet, The Sweet Inspirations, Millie Kirkham, DJ Fontana and Joe Esposito. Gary not only bears a striking resemblance to Elvis but he has perfected those famous gyrating moves and has an impeccable voice.
Jeff Scott entered the Tribute industry literally overnight. It began with a phone call on a cold February afternoon. By the end of the conversation, Jeff was heading to Las Vegas to join the successful Kokomo Beach Band, (a Beach Boys tribute band), where his love for 60's pop would fit like a glove. Touring the US and Canada, the highlight of the trip would be a series of shows on the Vegas Strip, including The Sands, Aladdin, and Circus Circus.
Date:
Saturday, August 26, 2017 | 7:30 pm
Event location:
1000 Islands Cruises Gananoque Boat Line ,
280 Main Street,
Gananoque, Canada
………………………………………………………………………………
2017 Gananoque Jr C Golf Classic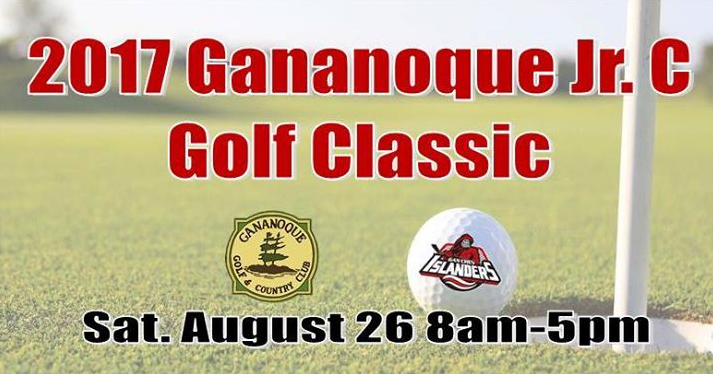 Date is Saturday August 26th @ the Gan Golf Club 8am Shotgun.
Four Person Scramble with Dinner, Prizes and silent auction:
Note: Carts are limited for those on a first paid first served basis.
Non Member with Cart: $75
Non Member Walking $60
Member with Cart: $50
Member Walking: $40
Hole Sponsors are available @ $50/sponsor
Date:
Saturday, August 26, 2017 | 8 am
Event location:
Gananoque Golf & Country Club,
211 Golf Club Lane RR 3,
Gananoque, Canada
Contact:
Robb Bowman
Phone contact: 613-213-2146
E-mail: rkb478@gmail.com
………………………………………………………………………………