Gananoque Farmer's Market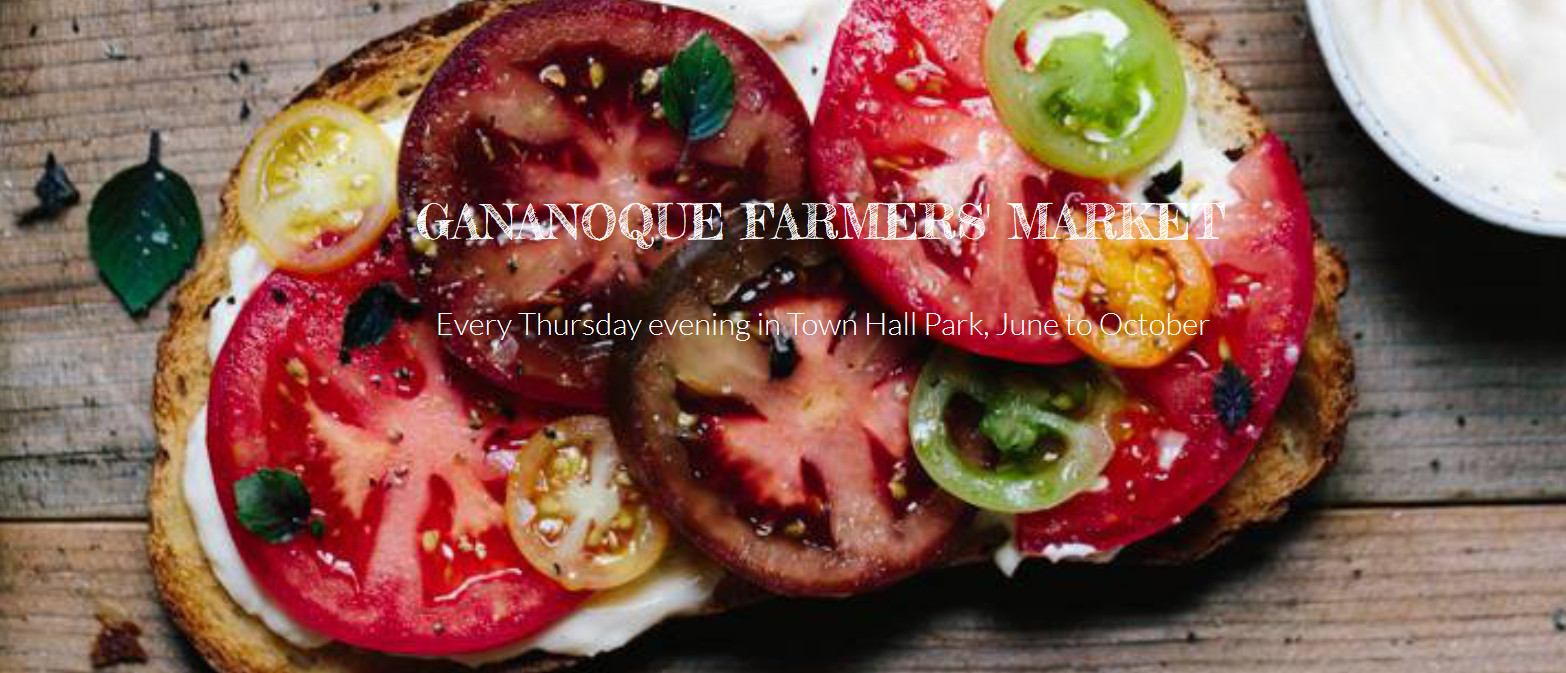 Fresh locally grown produce, meats, baked goods, cut flowers and more! Meet your farmers and neighbours, enjoy a picnic supper in the park and live music from the bandstand. Our market is proud to offer only locally produced goods, for sale by the hands that made/grew them!
The Gananoque Farmers' Market operates with the goal of promoting local market growers and providing access to fresh local produce & local goods. The market is run by volunteers and the involvement of members to help contribute to the success of the market. The market is managed by a Market Coordinator and a volunteer board (known as the Board) composed of at least two vendors. Market Schedule The Market operates from the first Thursday in June through until the second Thursday in October, weekly from 4 p.m until 7 p.m. The market location is at the Gananoque Town Hall Park.
Thursdays from 4 to 7 pm
June 7th to October 4th
Date : Sunday October 4, 2018
Event location : Town Hall Park, King Street East, Gananoque, ON
Contact: Tara Treanor – ganfarmersmarket@gmail.com or visit https://www.gananoquefarmersmarket.ca/
…………………………………………………………………………………
Gently Used Fall/Winter Clothing Bazaar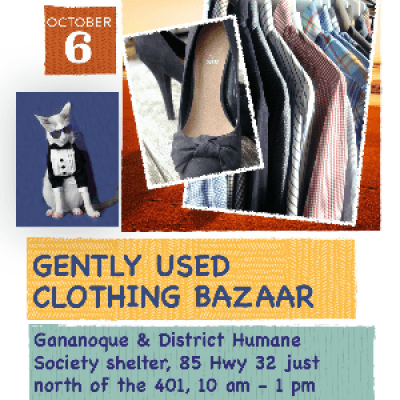 Our Fall/Winter Bazaar takes place Saturday Oct. 6 from 10 am to 1 pm at the Gananoque & District Humane Society shelter just north of Gananoque & the 401.
Our new collection of men's and women's clothing in excellent used condition, fashionable and low-priced, includes many of the higher-end labels you're looking for plus some boutique surprises. This is the place to gear up with everything cosy for cold weather from business to active wear – sweaters, coats, jackets, cotton shirts, pants, skirts and more. It's your treasure hunt so don't miss out!
Our Bazaars are friendly, fun, and you can try things on! And all proceeds go to the sweet animals who need a second chance at life while waiting for their furrever homes in our no-K*ll, very caring shelter.
Date : Saturday, October 6, 2018 | 10am to 1pm
Event location : Gananoque & District Humane Society, 85 County Rd 32, Gananoque, ON K7G 2V3, Canada, Gananoque, Canada
Contact: Arlene, 613-923-1953, arleneamassey@gmail.com
…………………………………………………………………………………
Fall Foliage Lunch Cruise
A Gananoque Boat Line event.
Experience the enchanting golden colours of the 1000 Islands on our signature 2.5 hour cruise. Enjoy a seasonal home-style meal with friends and family.
Adult $54.95
Child 6 -12 $23.95
Child 2- 5 Free
Entertainment:
1:00 PM – 2.5 HOUR CRUISE
Meals Included:
Turkey, stuffing, mashed potatoes, hot seasonal vegetables, cranberry sauce, mixed green salad, pasta salad, pumpkin pie and coffee or tea.
Date : Sunday, October 7, 2018
Event location : Gananoque Boat Line, 280 Main Street, Gananoque ON, K7G 2M2
Contact: call 1.888.717.4837 or visit https://ganboatline.com/
…………………………………………………………………………………
Happy Thanksgiving!
Thanksgiving Day is a national holiday celebrated in Canada, the United States, some of the Caribbean islands, and Liberia. It began as a day of giving thanks for the blessing of the harvest and of the preceding year. Similarly named festival holidays occur in Germany and Japan. Thanksgiving is celebrated on the second Monday of October in Canada and on the fourth Thursday of November in the United States, and around the same part of the year in other places.
What do people do?
Many people have a day off work on the second Monday of October. They often use the three-day Thanksgiving weekend to visit family or friends who live far away, or to receive them in their own homes. Many people also prepare a special meal to eat at some point during the long weekend. Traditionally, this included roast turkey and seasonal produce, such as pumpkin, corn ears and pecan nuts. Now, the meal may consist of other foods, particularly if the family is of non-European descent.
Date :
Monday, October 8, 2018
Event location :
Gananoque, ON
…………………………………………………………………………………
Shirley Valentine
Shirley is a Liverpool housewife. Her kids have left home and she makes dinner for her husband every night while talking to the wall. Out of the blue, her best friend offers her the chance of a lifetime – but is she ready to take the plunge?
Date : Friday, October 12, 2018 | 8-10pm
Event location : Springer Theatre – 690 Charles Street South – Gananoque, Ontario Canada
Contact: 613-382-7020
…………………………………………………………………………………
Canadian Corps: WWI in Story and Song
Canadian Corps WW1 in Story and Song. Produced by David Wight and presented by Bunker Military Museum of Cobalt. On the 100th anniversary of the end of World War 1, this show is a narrative of the Canadian Corps in World War 1 (from 1914-18) interspersed with songs, poems and stories. One performance only: 7:00 pm Tickets: $20. Presented by Bunker Military Museum. Tickets $20. To buy tickets online.
Date : Saturday, October 20, 2018 | 7-9pm
Event location : Springer Theatre – 690 Charles Street South – Gananoque, Ontario Canada
Contact: 613-382-7020
…………………………………………………………………………………
Fall Pet Portraits at Pet Valu Gananoque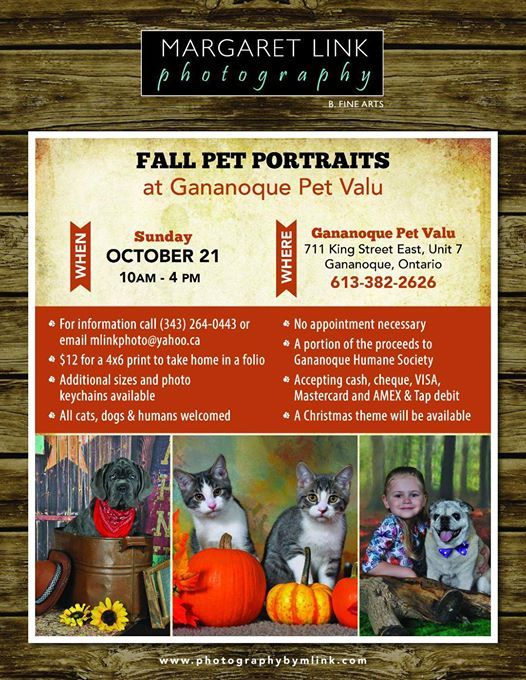 Pet portraits available. No appointment needed
4×6 in a folder $12
5×7 in a folder $16
8×10 print $24 plus $4 mailing fee
Digital file $26
Ask about our Christmas background..snowglobes, ornaments, keychains and buttons
A portion of the proceeds will go to Gananoque Humane Society
Cash, cheque, Visa, MasterCard, Amex and Tap Debit
Date : Sunday, October 21, 2018 | 9am to 3pm
Event location : Pet Valu Gananoque, 711 King St. East, Gananoque, Ontario K7G1H4, Gananoque, Canada
…………………………………………………………………………………