2 pianos, 4 Hands: an Art Exhibit & Theater Outing
KC Alumni, staff, students & friends are invited for a lovely night out in Gananoque for an Art Exhibition & a night at the theatre to see 2 Pianos 4 Hands. This is the grand finale in the string of events to celebrate KCVI turning 225 last year. Don your Blue & White to view a rare collection of fine art in the Firehall Theatre from 5:00 – 7:15 pm & then be sure to book your tickets to see 2 Pianos 4 Hands – one of the most successful Canadian plays ever – downhill in the 1000 Islands Playhouse.
Cost:
Art Exhibit only (5 – 7:15 pm): donation only
'2 Pianos…' show OR Art Exhibit plus '2 Pianos…': $25 (adults) or $15 (students).
Tickets are available here (on Eventbrite) or cash only in the front foyer of good ol' KCVI (235 Frontenac St) at lunch time (11 am – 12 noon) or after school (2:45 – 4:00 pm).
If these times don't work for you please e-mail M. Saunders (staff) at saundersm@limestone.on.ca to make arrangements. Once your tickets are paid for you'll be assigned a seat (or seats!) & then simply pick up your tickets at the Playhouse before the show on the 7th.
If you require special accomodations for seating, please advise upon payment & we'll do our best to get you the seats you need.
Date : Thursday, June 7, 2018 from 5 to 8pm
Event location : 1000 Islands Playhouse & Firehall Theatre, 185 South Street, Gananoque, Canada
…………………………………………………………………………………
Gananoque Farmer's Market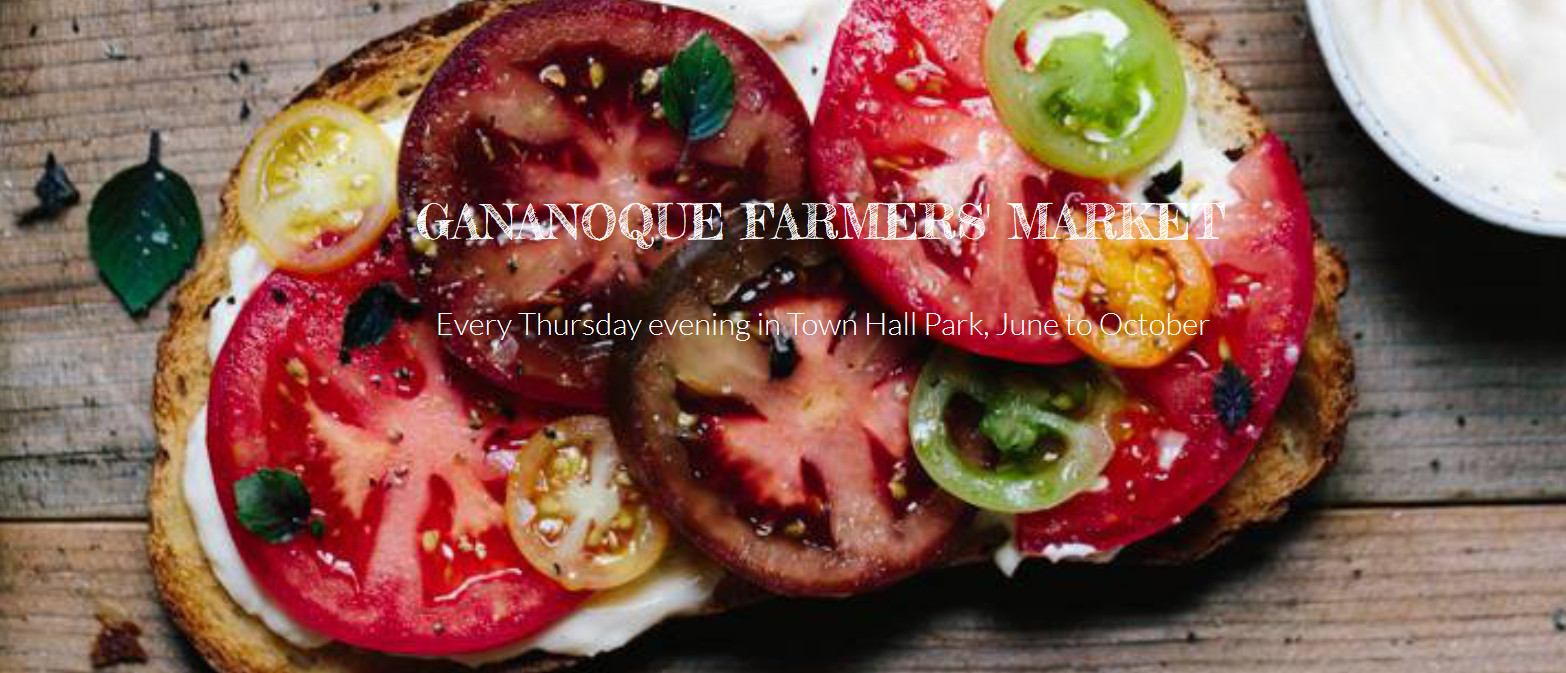 Fresh locally grown produce, meats, baked goods, cut flowers and more! Meet your farmers and neighbours, enjoy a picnic supper in the park and live music from the bandstand. Our market is proud to offer only locally produced goods, for sale by the hands that made/grew them!
The Gananoque Farmers' Market operates with the goal of promoting local market growers and providing access to fresh local produce & local goods. The market is run by volunteers and the involvement of members to help contribute to the success of the market. The market is managed by a Market Coordinator and a volunteer board (known as the Board) composed of at least two vendors. Market Schedule The Market operates from the first Thursday in June through until the second Thursday in October, weekly from 4 p.m until 7 p.m. The market location is at the Gananoque Town Hall Park.
Thursdays from 4 to 7 pm
June 7th to October 4th
Date : June 7,14,21,28 to October 4th, 2018
Event location : Town Hall Park, King Street East, Gananoque, ON
Contact : Tara Treanor – ganfarmersmarket@gmail.com or visit https://www.gananoquefarmersmarket.ca/
…………………………………………………………………………………
Happy Father's Day!
Father's Day is an occasion to mark and celebrate the contribution that your own father has made to your life. Many people send or give cards or gifts to their fathers. It is a relatively modern holiday so different families have a range of traditions. Father's Day is not a federal public holiday in Canada. It falls on a Sunday, which is a day off for many workers so many offices and stores are closed. However, some shopping precincts and stores, as well as restaurants, cafes and entertainment venues, may be particularly busy on Father's Day.
There are some suggestions that the idea of Father's Day may originate in pagan sun worship. Some branches of paganism see the Sun as the father of the universe. The June solstice occurs around the same time of year as Father's Day so some people saw a link between the two.
The idea of a special day to honor fathers and celebrate fatherhood was introduced from the United States. A woman called Sonora Smart Dodd was inspired by the American Mother's Day celebrations and planned a day to honor fathers early in the 20th century. The first Father's Day was celebrated in Spokane, Washington on June 19, 1910.
In the United States, there are a range of events, which may have inspired the idea of Father's Day. One of these was the start of the Mother's Day tradition in the first decade of the 20th century. Another was a memorial service held in 1908 for a large group of men, many of them fathers, who were killed in a mining accident in Monongah, West Virginia in December 1907.
Date :
Sunday, June 17, 2018
…………………………………………………………………………………
Fermentation Workshop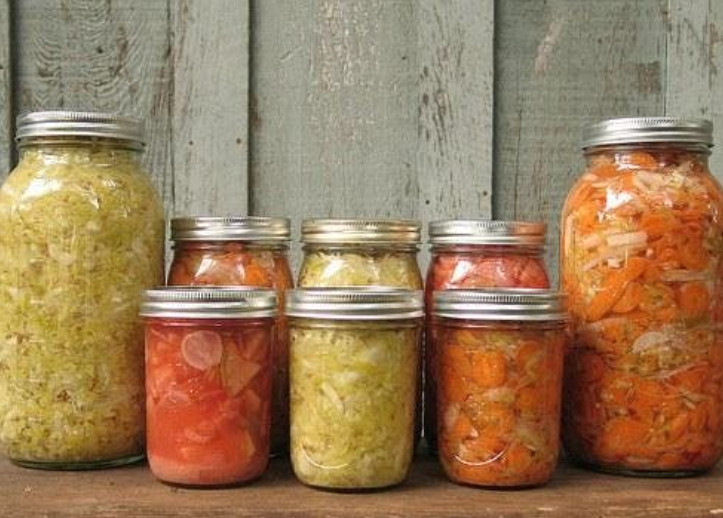 Come join us in a magical evening of learning, sharing and introducing ourselves in the wonderful world of fermented foods!
This beginner level workshop will go over the health benefits of fermentation. We will discuss the best ways to incorporate them into your diet in a daily basis to enhance the immune system and digestive health (and for deliciousness!).
We will demonstrate easy techniques and learn how to ferment a variety of foods. You will make and leave with 1 batch of kimchi to take home, a step-by-step instruction handout, and ongoing support.
Hosted By: Maria Mena, B.A, CNP, is a certified holistic nutritionist. Her passion is to inspire and teach people to take charge of their own health. She believes that the best way to change and follow a healthier lifestyle is by investing in you.
Date : Tuesday, June 19, 2018
Event location : Nature's Tonic , 47 King Street East, Gananoque, Canada
Contact : Maria on mariajose.mena.t@gmail.com or visit www.mariajosemena.com
…………………………………………………………………………………
The Erroneous Monks
The Erroneous Monks (Formerly The Lonesome Heroes) pay tribute to the words & music of Canadian Poet/Songwriter Leonard Cohen.
Date : Sunday, June 24, 2018
Event location : Royal Theatre Thousand Islands , 75 King Street E., Gananoque, Canada
…………………………………………………………………………………
A Moonlight Nigh: a Gananoque Food & Drink event
Entering its fifth year, our signature fundraising event has become the biggest summer party in the 1000 Islands. Join us for an evening of fine cuisine and live music to support the arts. This year's event features the show Buddy: The Buddy Holly Story.
Tickets: $150. Available through the Box Office at 613-382-7020 and online.
Date : Thursday, June 28, 2018 at 6pm
Event location : Thousand Islands Playhouse , 185 South Street, Gananoque, Canada
…………………………………………………………………………………