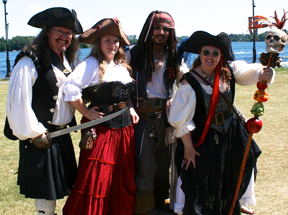 Take a step back in time at the Gananoque Pirate Festival. Visit the Pirate Village with live music, tarot card readers, wood carvers, a blacksmith, potters, a tall ship manned with pirates, cannons and guns! KIDS ZONE and of course no Pirate Festival would be complete without the notorious Captain Jack! We would never forget the big kids so come out and test your skills on the tippy ladder, cool off on the giant water slide or listen to great music on the waterfront mainstage.
July 10th – July 12th at Noon – Grog Contest: Visit participating outlets to and be sure to purchase a tasty grog concocted by their devious pirate staff! Be sure to fill out a ballot for your tasty treat and see who will win the Infamous Best Grog Award!
FRIDAY, JULY 10
7:30 pm – Pirate parade (meet at the Gananoque Recreation Centre by 7 pm for line-up)
7:30 pm to 10:30 pm – KIDS ZONE – games, crafts, obstacle course and more
8:15 pm – Hairband doing 70's funk
9:30 pm – Thriller Canada doing the best of the Jacksons and Michael Jackson
11:00 pm – Village Closes
SATURDAY, JULY 12
10:00 am: Waterfront Family breakfast with Captain Jack
10:30 am to 7 pm – KIDS ZONE
11:00 am – Capt'n Tor and the Naer-Do-Well-Cads on Kid's Stage
12:30 PM  Dolce Vita
12:30 – 3:00 pm: Kingston Fencing demonstrations.
2:00 PM: Bellyflop Contest
3:00 – Captain Tor and the N'aer De Well Cads
4:30 pm – Dolce Vita
7:00 pm – Pirate Waterfront Dinner with host Captain Jack. Must be 19 or older $35 per person. (For tickets call: 613-381-8427)
8:00 pm – Jolly Rogers doing dance rock.
9:30: Crush doing the best of Bon Jovi