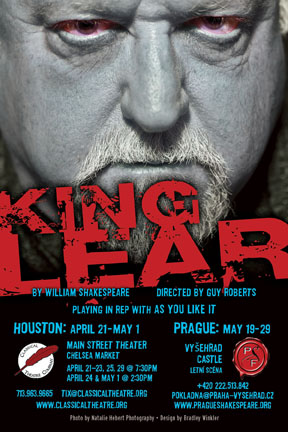 Mark your calendars as CTC takes great pride in announcing that William Shakespeare's King Lear will be coming to town soon. CTC will be having a collaborative effort with the Prague Shakespeare Festival to produce William Shakespeare's epic piece. This will certainly be an amazing show that all enthusiasts of Shakespeare should never dare miss. See the show and you will absolutely be entertained. The show is adapted and directed by the Prague Shakespeare Festival's Artistic Director Guy Roberts, and this production will star actors hailing from both the Czech Republic and Montrose Houston. The show will be running at both Monstrose Houston and then at Prague after a few weeks.
The show is tailored from Shakespeare's work of the same name. It has been widely known as Shakespeare's greatest tragedy. It is also declared as the world's greatest English play ever written. Truly an epic adventure, King Lear is the ravaging tale of an aging ruler whose choice to divide his kingdom between his three daughters to help avoid a "future strife" only succeeds in starting an avalanche of greed, betrayal and ruthlessness. Join his journey and discover the truth behind the tale. Come and see Shakespeare's most classic tragedy in motion. Don't miss this amazing production by Guy Roberts.
The production will have several show dates from the 21st, 22nd, 23rd, 24th, 25th of April and on the 1st of May. See the show at the Main Street Theater – Chelsea Market (4617 Montrose Blvd., Houston, TX). Tickets will be available online and may be bought by visiting www.classicaltheatre.org. Get your tickets now and see the one of the world's greatest English-language play ever written. Join the king on his heroic journey divide his kingdom to stop what the future strife. See it all only at King Lear.