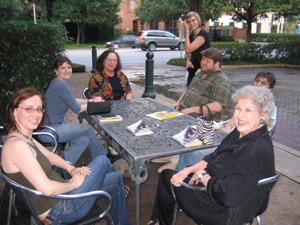 If you enjoy reading great books and discussing it in a group setting than you will enjoy the "Houston Montrose Great Books" book club. The group meets on the first Thursday of every month at 6pm. They are now meeting at a new location. Join them at the "Havens Center" at 1827 W. Alabama, Houston, TX next to the Chocolate Bar. The center is affiliated with St. Stephens Episcopal Church and close by but is not in the same building as the church. Parking for attendees is available on the street where you can find it and is also available next to the church in a location that is a couple lots down towards the east from The Havens Center.
The "Great Books" book club loves to have new members. They ask that you read the book if you want to participate in the discussion but everyone is welcome to attend and listen whether they have read the selection or not. Call or email me if you would like more info.
For more information contact Alice Aman by email: amanhaus@gmail.com or by phone: 713-523-3652. You can also get more information from their website at: www.houstonbookclubs.org.