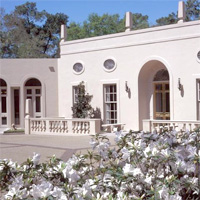 Come out to the Museum of Fine Art Houston (Rienzi – 1406 Kirby Drive) for "The Fantastic Fables of La Fontaine". They will be performing July 24, 2011. During this 3 hour long workshop, Early Music Southwest, an international collaboration of baroque music professionals, will perform "The Fantastic Fables of La Fontaine," a musical tale of wise and foolish animals from 17th century France. The narration with accompanying chamber ensemble will delight kids of all ages. After the performance, children will have the opportunity to create fable themed crafts and enjoy a cookies and lemonade reception. The recital will begin promptly at 1:15pm.
Early Music Southwest annually presents a series of musical recitals at Rienzi. Early Music Southwest specializes in the performance of chamber music of the seventeenth and eighteenth centuries on original instruments, perfectly complimenting.
Admission is FREE!
Space is limited, reservations are required: rienzi@mfah.org or 713.639.7800. All "A Great Read" programs at Rienzi are generously underwritten by a supporting grant from the Sterling-Turner Foundation.