Happy Canada Day!

On July 1, 1867, Canada became a self-governing dominion of Great Britain and a federation of four provinces: Nova Scotia; New Brunswick; Ontario; and Quebec. The anniversary of this date was called Dominion Day until 1982. Since 1983, July 1 has been officially known as Canada Day.
In many towns and cities, municipal governments organize a range of events, often outdoors. These include pancake breakfasts, parades, concerts, carnivals, festivals, firework displays and citizenship ceremonies for new Canadian citizens. The celebrations often have a patriotic mood. Canada's national flag is widely displayed and a lot of people paint their faces red and white, which are Canada's national colors. The celebrations in Ottawa, which is Canada's capital city, are particularly exuberant.
History
On July 1, 1867, the British North Americas Act created the Dominion of Canada as a federation of four provinces. This event is known as the confederation of Canada. The four original provinces were created from the former British colonies of Nova Scotia, New Brunswick and the Province of Canada, which was divided into the provinces of Quebec and Ontario. Canada's boundaries have been extended since 1867. The country now consists of 10 provinces and three territories.
As the anniversary of Confederation, Dominion Day, and later Canada Day, was the date set for a number of important events, such as the first national radio network hookup by the Canadian National Railway (1927); the inauguration of the Canadian Broadcasting Corporation's cross-country television broadcast, with Governor General Vincent Massey's Dominion Day speech from Parliament Hill (1958); the flooding of the Saint Lawrence Seaway (1958); the first colour television transmission in Canada (1966); the inauguration of the Order of Canada (1967); and the establishment of "O Canada" as the country's national anthem (1980). Other events fell on the same day coincidentally, such as the first day of the Battle of the Somme in 1916—shortly after which Newfoundland recognized July 1 as Memorial Day to commemorate the Newfoundland Regiment's heavy losses during the battle—and the enactment of the Chinese Immigration Act in 1923—leading Chinese-Canadians to refer to July 1 as Humiliation Day and boycott Dominion Day celebrations until the act was repealed in 1947.
Symbol
Canada's national flag is seen on Canada Day. This consists of two vertical red rectangles separated by a white square. The white square contains a red image of a maple leaf. Canada's national colors are red and white and are used in many ways on Canada Day. Some people wear red and white clothing and others paint their faces in these colors.
Date :
Sunday, July 1, 2018
………………………………………………………………………………………………
Barndoor Theatre Presents : Box and Cox, Complete !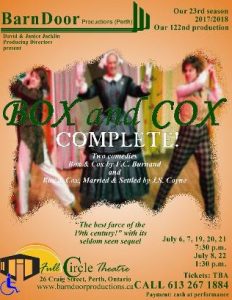 BarnDoor Theatre Presents "Box and Cox, Complete!" from July 6th – 8th & 19th-22nd, 2018 at the Full Circle Theatre in Perth.
Called "the best farce of the 19th century" F.C. Burnand's BOX AND COX is a 50 minute romp. Mrs. Bouncer has rented a room to both Box and Cox — without either knowing of the other! When they finally meet, the fur flies — until they find they are long-lost brothers.
J.S. Coyne's BOX AND COX, MARRIED AND SETTLED is a sequel that is seldom seen, although just as funny. Two years later, B and C are back, each now with a wife. Fanny and Sophie were schoolmates — who can't stand each other. More fun ensues.
Two one-act farces with the same characters
by F.C. Burnand and J.S. Coyne
Characters:
James Cox, a journeyman hatter
John Box, a journeyman printer
Mrs. Bouncer, a land-lady
Mrs. Fanny Cox (née Hawes)
Mrs. Sophie Box (née Dawes)
Performance Dates: July 6, 7, 8, 19, 20, 21, 22
(with a dark week to accommodate Stewart Park Festival)
Date :
Friday, July 6, 2018 at 7pm
Event location :
Full Circle Theatre
26 Craig Street, Perth Ontario
Contact :
Website: http://www.barndoorproductions.ca/
………………………………………………………………………………………………
Mrs Warren's Profession

Tues. to Sun. matinees at 2pm
Wed. and Sat. evenings at 8pm
Every mother has her secrets.
When Vivie Warren and her mother, Kitty, get together after Vivie's graduation from Cambridge, a classic mother-daughter conflict arises with questions about the source of Mrs. Warren's wealth in this warm, witty, and engaging Shaw classic. A tale of conventional morality and unconventional lives.
Pre-show Talks explain the history, story, background, and social/cultural context of the play and playwright and are included with the price of your ticket. Pre-show Talks are presented at 1:30pm before each matinee, and at 7:30pm before each evening performance.
Date :
July 20 to Aug 12, 2018
Event location :
Classic Theatre Festival
54 Beckwith St. E.
Perth, ON – Canada
………………………………………………………………………………………………
Stewart Park Festival

Stewart Park Festival is a must-attend for all lovers of music. This music-filled weekend in July is host to all kinds of talented performers from around the world. Whether you like soul, jazz, pop, or even Estonian folk, Stewart Park Festival has all your musical interests covered. This year's festival will be taking place July 13-15, and the 2018 SPF lineup sounds like it's bound to get the crowd movin and groovin. You can even take the music home with you by checking out the Lake 88 stand and buying your favourite performer's cd! (Do I need tickets?) For the after-hours show you will! You can get your tickets at the information table in the market, or at the door on the night of.
Under a canopy of majestic maple trees the Stewart Park Festival in Downtown Heritage Perth brings together an eclectic variety of Canadian and International musicians for a great weekend of over 30 free outdoor concerts. The weekend has entertainment for everyone including children's entertainment and an international food and artisans market.
This year, cycle to the Stewart Park Festival! Secure bike parking and bike rentals available from Heritage Bikes and Rentals
For more information visit the Stewart Park Festival website at Stewart Park Festival
Date :
July 13 to 16, 2018
Event location :
Stewart Park
80 Gore Street East, Perth, ON
Contact :
Phone contact: 613-267-3311-2251
E-mail: stewartparkfestmgr@gmail.com
Website: http://www.stewartparkfestival.com
………………………………………………………………………………………………
Academy of Music Theatre Presents : the Lion King

The Academy of Music Theatre Presents "The Lion King" on July 14th, 2018 at the Stewart Park Festival in Perth.
Disney's The Lion King has captivated the imagination of audiences around the world and now, for the first time ever, we have the opportunity to produce this one-of-a-kind musical at the Academy! The African savannah will come to life on our stage with Simba, Nala, Rafiki and an unforgettable cast of characters as they journey from Pride Rock to the jungle… and back again, in this inspiring, coming-of-age tale. With gorgeous animal puppets and costumes designed by professional puppeteer, Donna Bourgeault, this show will be visually spectacular. We will also be incorporating live drumming into the production, so that students will have a chance to learn drum rhythms and techniques, as well as singing, dancing, and acting an epic character! This show truly has it all – don't miss the chance to sing "Hakuna Matata," "The Circle of Life," "Can You Feel the Love Tonight," "I Just Can't Wait to be King," and many more in this incredible show!
The best part of this workshop is the chance to perform our production live onstage at Perth's Stewart Park Festival, with an average annual attendance of over 20,000 people! Our cast members will be true stars, onstage beside internationally renowned performers.
1 week workshop – July 9 – 13, 2018 – Monday through Friday, 9:00 am – 3:00 pm
1 Final Performance – Saturday, July 14 at 12:00 noon on the main stage of the Stewart Park Festival
Ages 5 – 15
$300
Date :
July 14, 2018
Event location :
Stewart Park Bandstand
80 Gore Street East, Perth, ON
Contact :
Website: http://www.musictheatre.ca/
………………………………………………………………………………………………
Paint the Summer Show

The Rideau Lakes Artists' Association Presents "Paint the Summer" Show, at Algonquin College in Perth, 7 Craig Street from July 14th – 15th, 2018 from 10:00 a.m. – 4:00 p.m. This facility is perfect for viewing wonderful original paintings in oil, acrylic, watercolour and batik for which our Association is well known for. We will also offer other art forms from these talented artists for your enjoyment.   You will still be able to meet with the artists and discuss their ideas and inspirations while also getting to know the dynamic s of our successful art association.
This year the show will be supporting Interval House.
Date :
July 14-15, 2018
Event location :
Algonquin College
7 Craig Street, Perth, ON K7H 1X7
Contact :
Website: www.rideaulakesartists.com
………………………………………………………………………………………………
Perth Citizen's Band Concert presents "4th SUMMER POPS CONCERT"

All concerts are FREE to the public and
are held in historic Stewart Park
just behind the Perth Town Hall.
Bring along a lawn chair or simply enjoy
a leisurely stroll through the park.
A series of Summer Pops Concerts at the Perth Legion that continues on throughout the summer! For more information visit www.perthband.ca or email rmsgardiner@hotmail.com
Date :
July 19, 2018 at 7:30pm
Event location :
Stewart Park Bandstand
80 Gore Street East, Perth, ON
………………………………………………………………………………………………
Studio Theatre Perth presents "Beirut"

This International thriller strikes a perfect balance between suspense and geopolitical context.
Rosamund Pike, Mark Pellegrino, Dean Norris.
Tickets:
Adults – $10.
Children under 12 – $8 at the door and at Tickets Please ($2 fee applies)
Date :
July 20,2018 at 7:30pm
Event location :
Perth, ON
Contact :
Website: http://studiotheatreperth.com/
………………………………………………………………………………………………
Perth Ribfest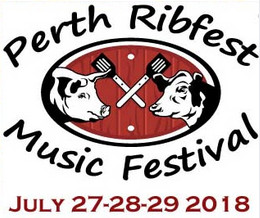 This one's for music-lovers and carnivores alike! On July 27 – 29, 2018 at Last Duel Park, you'll indulge your ribs craving while taking in the music of talented local artists. Don't forget to sample some local craft beer at the Beer Garden, hosted by Perth Brewery, and mixed drinks by Top Shelf Distillers. You might want to bring some dental floss! Entry is by donation, and you can follow the Perth Ribfest Facebook page to stay updated on 2018's performers!
This is an Annual 3-day event hosted by the Rotary Club of Perth. The event features mouth watering ribs, plus multiple other food vendors and non-food vendors; live entertainment; kids zone; antique car show plus much more.
For further information please visit Perth Ribfest.
Date :
July 27 – 29, 2018
Event location :
Last Duel Park
22 Craig Street, Perth, ON
Contact :
Website: http://perthribfest.com/
………………………………………………………………………………………………