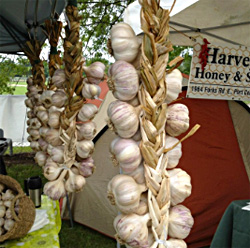 Enjoy 70 + Garlic, Artisans and Food Vendors on grounds at the 16th Annual Perth Garlic Festival taking place August 10-11, 2013.
Festival takes place and the Perth Fairgrounds (50 Arthur St., Perth, Ontario) Event takes place day Saturday and Sunday. Admission is $5 and children under 12 are free.
Held the second weekend in August, the Perth Garlic Festival is a celebration to the 'stinking rose'. The warm August air of Ontario's prettiest town is scented with the pungent aroma of garlic while thousands of 'garlic heads' revel in the many attributes of this wonderful herb.
The purpose of the festival is to promote Ontario grown garlic, share ideas on how to grow, harvest, market, cook and enjoy garlic, to bring together 'garlic heads' and producers on an annual basis, to provide a forum for the consumer to purchase Ontario grown garlic, to assist in the ongoing tourism development of the Perth community and to distribute the proceeds (almost $100,000.00 to date) of the festival to worthwhile community initiatives supported by the Lions Club of Perth.