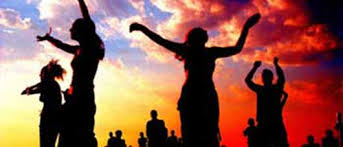 ECSTATIC DANCE
22nd October from 7:30 p.m. until 9:30 p.m.
$5 per person
Bring a snack and water
The 2015 dates from July until December are: July 23, Aug. 20, Sept. 24, Oct. 22, Nov. 26, and Dec. 24.
For information please contact Kat Elliott at bowmana@storm.ca or call 613-278-0259.
Peaceful, playful or enraptured, ecstatic dance is a journey of self-guided movement meditation, and an expression, knowing and release of the truth of our lived experience into the safe space created by our community of dance.