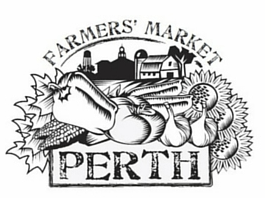 Perth Farmer's Market

Vendors will offer items such as locally grown and organic vegetables and fruit (in-season), fresh cut flowers and bedding plants, honey, maple syrup, preserves, baked goods, freezer meat, also craft vendors with jewellery and a wide variety of hand-made items for sale. Stop in at the Piggin' Out Cafe for a coffee and treat. Occasionally there will be musical entertainment. Market runs 8am to 1pm, every Saturday between Mother's Day and Thanksgiving weekends.
Dates : Saturday, October 7, 2017 from 8 am to 1 pm
Address : Crystal Palace, 31 Basin Lane
Contact: Sarah MacKenzie, President
Phone contact: 613-284-0578
E-mail:  sarebmac@gmail.com
Website: http://www.perthfarmersmarket.ca/
2017's Perth Autumn Studio Tour

The Perth Autumn Studio Tour opens its studio doors this Thanksgiving Oct 7-9th, 2017.
Our Tour is 25 this year! Come out to our gorgeous corner of Ontario and celebrate the boundless creativity and beauty our studios will be offering you this Thanksgiving weekend. Be sure to also plan a stop for a DEE-licious lunch at our local Brooke Valley School. Meals made with local ingredients and heart! Proceeds all go to support the school.
21 artists at 6 studio locations just west of Perth, give visitors the opportunity to purchase unique items directly from the makers. Studios are open Saturday – Monday, 10am -5pm. Visit the website for details and a downloadable map http://www.perthstudiotour.com.
Located within 25 kilometres of picturesque Perth, the Tour showcases one of Eastern Ontario's finest selections of contemporary fine arts and crafts against a backdrop of Mother Nature at her best. The real heart of the Perth Autumn Studio Tour is of course, the creative process that allows us to produce the work we love. Some studios are able to give demonstrations but many are given over to the studio tour and guest artists so this is not possible.
Dates : Saturday, October 7 to Monday, October 9, 2017
Contact: Riverguild Fine Crafts at 613-267-5237
Perth and District Historical Society – Oscar Movie Night

Frances Rathwell, Archives Lanark Chair, on "The One Room Schools in Lanark County", the prestigious series with the many stories of the County's early schools, in Darling & Lavant, Dalhousie Township, Beckwith Township, Pakenham, Ramsay, Lanark Township, Drummond, North Elmsley and Montague Townships.
Dates : Friday, October 13, 2017 from 7:30pm to 9:30 pm
Address : Perth Canadian Legion Hall, 26 Beckwith Street East.
Contact: David Taylor
Phone contact: 613-264-0094
Website: http://www.perthhs.org/
A perfect Likeness

PANTO CAN BE MURDER
Find out what was happening backstage at our last production. An all-original backstage murder-mystery comedy.
Dates : October 13, 14, 19, 20, 21 at 8 pm and 15, 22 at 2 pm.
Address : 26 Craig Street, Perth, ON
Contact: Website: www.barndoorproductions.ca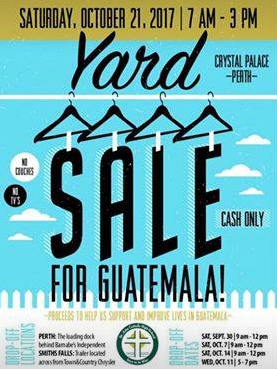 St John High School Yard Sale 2017

Every fall, St. John High School hosts a community YARD SALE at the Crystal Palace in Perth, to raise funds for the annual school trip abroad. On Saturday, October 21st, 2017 there will be serious deals to be had while you support the school's fundraising efforts. 7am to 3pm.
Dates : Saturday, October 21,2017
Address : Crystal Palace, Perth, ON
Contact: St. John High School in Perth
Phone contact: 613-267-4724
Website: http://www.sjchs.ca

Arlene Quinn : October listening Room

On Sunday, October 22nd, 2017, ARLENE QUINN graces the stage at the Perth Tea Room (Perth Restaurant) for the LISTENING ROOM SERIES October session. Concert begins at 7pm and tickets are $20, available by calling 613-267-7902 (payment is necessary in advance to reserve). Dinner reservations before the show can be made by calling the Perth Restaurant at 613-267-3170. Part of the proceeds will be going to Lanark County Community Justice Program, a worthy program facilitating restorative justice in our area.
Dates : Sunday, October 22, 2017 from 7pm to 10 pm
Address : Perth Tea Room, Perth ON
Contact:
The Tennants
Phone contact: 613-267-7902
E-mail:  ferdburphyll@gmail.com
Perth Ghost Walk

Throughout 200 years of the town's history, the unsettled spirits of Perth refuse to go quietly into that good night until their stories are told. Presented by the Classic Theatre Festival, you can hear their new tales with this family-friendly, hour-long ghost theatrical walk through Perth's historic streets. It takes place each Thursday at Friday at 7 p.m. in the summertime.
Only 75 tickets per night – get yours early! Can be reserved by calling the Perth Museum at 613-267-1947.
Admission fee is $10 per adult, $5 per child (maximum $25 per family, HST incl). Proceeds from the event will go towards support of the Perth Museum.
Dates : Thursday, October 26 to Friday, October 27, 2017 from 7 pm to 8:30 pm
Address : Perth Museum – 11 Gore St E., Perth ON, K7H 1H4
Contact: 613-267-1947
Website: http://www.perth.ca/en/explore-perth/Museum.aspx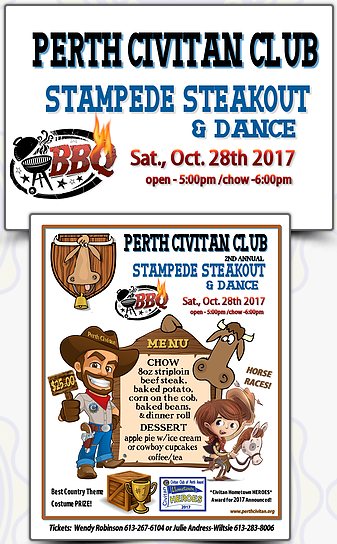 Perth Civitan Annual STAMPEDE STEAKOUT & DANCE 2017

Menu …. 8oz Striploin Steak, Baked Potato, Baked Beans, Corn on the Cob & Dinner Roll.   Dessert – Apple w/Ice Cream or Cowboy Cupcakes,  Coffee & Tea. Horse Races!   There will be even more *FUN & Giggles* at this year's horse races. You will have to come out and see for yourself!
Country Dance:  Back by popular demand… The Country Sounds of  * Daisy Duke-Parton*
Contests:  Best Female & Male Country Theme Costume Prize!
Civitan *Hometown Heroes* Award for 2017 will be Announced!
Dates : Saturday October 28, 2017
Address : Perth, ON
Contact: 613-267-2491
E-mail: perthcivitan@gmail.com
Website: www.perthcivitan.org
Halloween Party at the Crystal Palace

The Perth Civitan Club hosts Halloween at the Crystal Palace on October 31st, 2017 from 7:00 p.m. – 9:00 p.m. Come for a spooky tour of a classic Halloween Favourite in downtown Perth. Activities are for kids, both young and old.
Dates : Tuesday, October 31, 2017
Address : Crystal Palace, Perth, ON
Contact: 613-267-2491
Website: www.perthcivitan.org