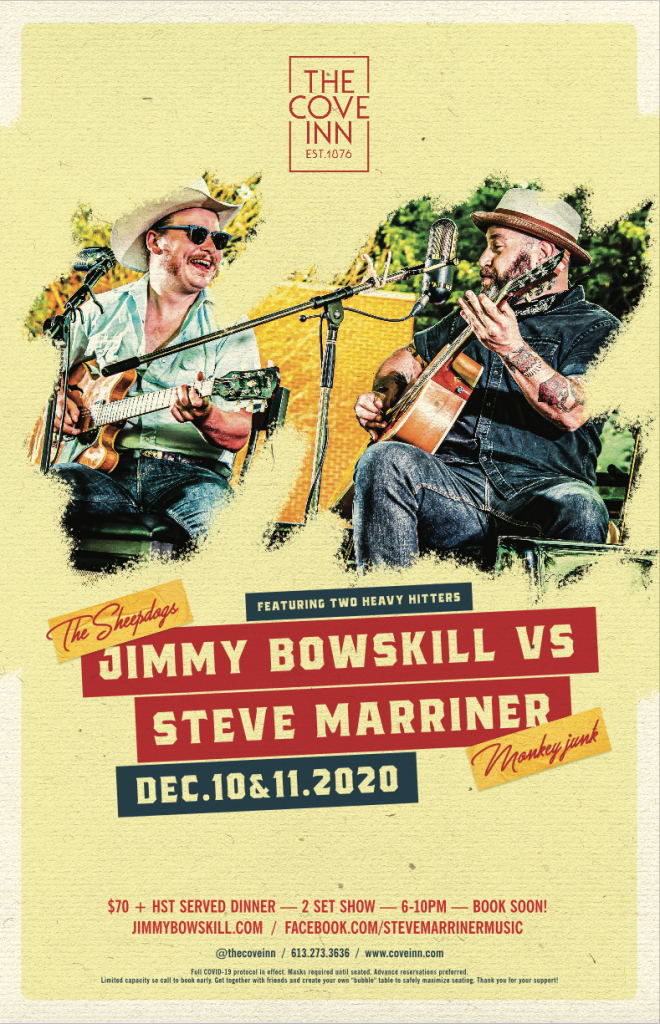 STEVE MARRINER
Working with Jimmy Bowskill in all forms of management and bookings. TV and radio interviews/appearances. Session work, soundtracks and sideman work. Jimmy is quite possibly the most talented and diversified players on the Roots and Blues scene, mastering a number of instruments from electric to acoustic guitars, mandolin, fiddle, pedal steel and stand up bass and he has perfect pitch powerful vocals.
Canada's Youngest Juno Nominee ever. Jim has won a number of Blues Awards, Music Awards and Maple Blues Awards.
"I played with him at this big festival in Canada called 'Nakusp.' He's got a great feel. He reminds me of Paul Kossoff [Free], who we sadly lost all those years ago. He's almost the spitting image of him which is incredible."…Paul Rodgers, leader of Free, Bad Company, singer for Queen and The Paul Rodgers Band
"Great Guitar playing with a lot of feeling and expression in all styles from ZZ Top inspired Blues/ Rock to Peter Green, his country "finger pickin" or Power Rock."…Guitar Magazine
"He plays in the top league with Peter Green, Stevie Ray Vaughan or Jeff Healey"…Breakout Magazine, Germany
The potential for big success is existing and Blues/Rock is in need for flesh blood"…Slam Magazine, Germany
"Bowskill has developed into one of this country's most versatile roots and blues musicians. Not only is he a gifted guitar player, but he is equally as comfortable on the mandolin and fiddle (as well as other instruments, I don't let him near the piano!). Did I mention he sings like a bird as well? What a talent!"…Lance Anderson, Juno Award Winning producer, keyboardist and associate of Oscar Peterson.
"I've known Jimmy since he appeared busking out front of Healey's and Jeff invited him in to play with us. He was 11 years old and already sounding great I've had the pleasure of his friendship and playing on the same stage many times. Over the years it's been great watching him grow up and see his musical abilities expand over time. Great guy and musician. I look forward to sharing the guitar spotlight with him again in the future."…Pat Rush, Electric Guitar and Slide Guitarist with Johnny Winter
STEVE MARRINER
Steve Marriner is a dynamic and powerful performer. His incorporation of various styles of blues, roots and soul come together to form an original sound that is both deep and genuine.
Steve has toured internationally and performed at prestigious festivals, concert halls and music clubs throughout Canada, The US, Europe and Australia. While he currently dedicates most of his time to fronting the acclaimed roots sensation "MonkeyJunk", Steve can often be found performing intimate solo shows and joining other artists as a dynamic sideman.
During breaks between tours, Steve has developed a sterling reputation as a studio musician and producer. He has an extensive discogrpahy and has recorded with the likes of Kim Wilson (The Fabulous Thunderbirds), Harry Manx, Richard Bell (The Band, Joplin), Gordie Johnson (Big Sugar, Grady), Paul DesLauriers, Steve Dawson and David Gogo. Not yet thirty years old, he has already produced ten full length studio albums. The man doesn't stop.
Originally renown for his prowess on the harmonica, Steve has become a multi-instrumental force in recent years adding bass, guitar, drums, and keys into the mix. He's won multiple Maple Blues Awards for Harmonica Player and Male Vocalist of The Year. As well as a 2012 Juno Award for Blues Album of The Year with MonkeyJunk.
Rate: $70
Date :
December 10 & 11, 2020 from 6 to 10pm
Event location :
The Cove, 2 Bedford St.
Westport, Ontario K0G 1X0 Canada
Contact :
Seamus Cowan – 1.888.COVE.INN
http://www.facebook.com/jimmy.bowskill.9%20www.facebook.com/stevemarrinermusic