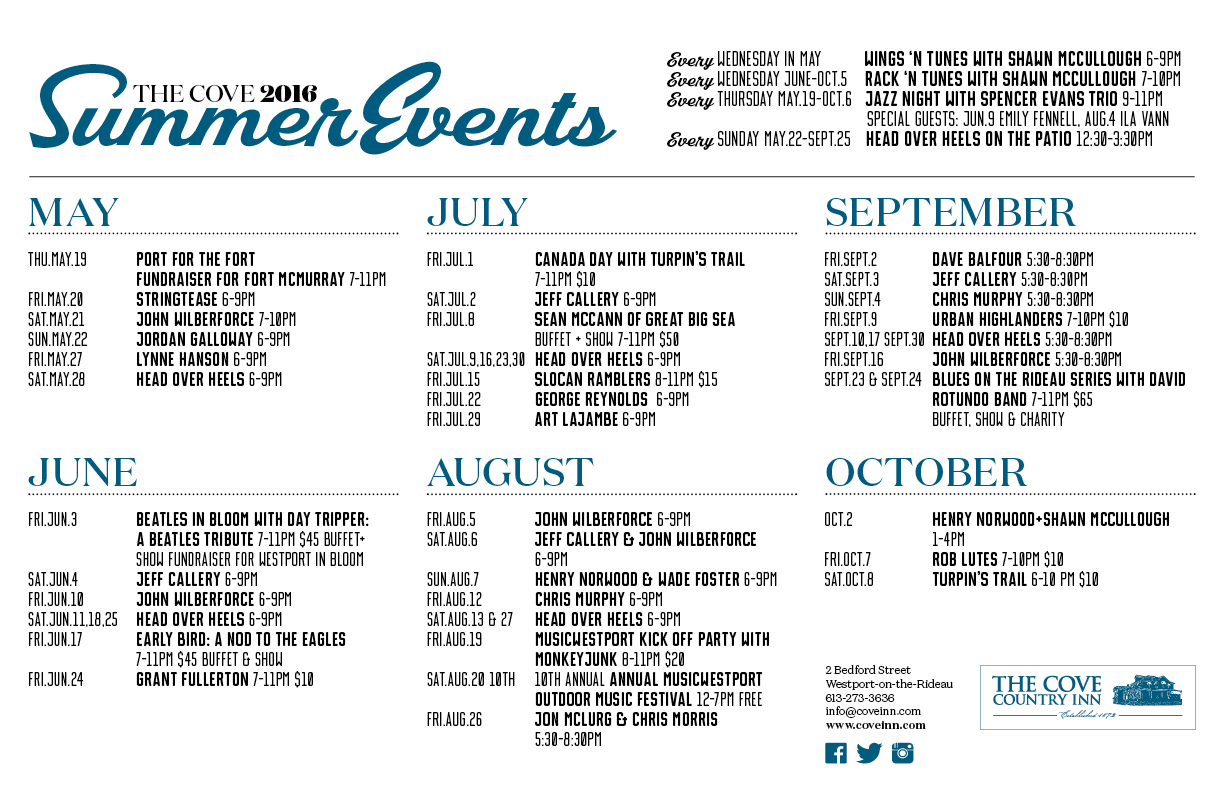 Happy first of July,
Celebrate some down time on the patio or a night show with one of our many
musical acts coming through! Try our new food, cocktail, wine, beer,
spirit, and shooter menus!
Summer!
Thanks again, as always,
Seamus and ALL of us at The Cove
PS Reservations always preferred this time of year.
JULY EVENTS @ The Cove
Enjoy Daily, Delicious Food Specials…and NEW SUMMER MENUS!
#thecoveinnfood
Sun-Thurs, 15% Off Room Rates (plus HST and includes breakfast)
*#thecoveinnrooms*
Every Wednesday Jun – Oct.5 RACK 'n TUNES with Shawn McCullough 7-10pm
www.reverbnation.com/shawnmccullough Play a Song and you could win a
Guitar! *#rackntunes*

Every Thursday JAZZ NIGHT with Spencer Evans Trio 9-11pm *#jazznight*
Every Sunday HEAD OVER HEELS on the Patio 12:30-3:30pm
www.kevinheadmusic.com *#patioheadoverheels*
*#thecoveinnmusic*
Fri.Jul.1 CANADA DAY PARTY with TURPIN'S TRAIL (East Coast/Folk, Kingston)
7-11pm $10 *www.turpinstrail.com http://www.turpinstrail.com*

Sat.Jul.2 JEFF CALLERY (Folk/Rock, Brockville) 6-9pm
www.reverbnation.com/jeffcallery
Fri.Jul.8 SEAN McCANN (Folk, Manotick) 7-11pm $50 Buffet & Show
www.seammccannsings.com http://www.slocanramblers.com*

 
Fri.Jul.15 THE SLOCAN RAMBLERS (New Bluegrass, Toronto) 8-11pm $15
www.slocanramblers.com www.slocanramblers.com*
Fri.Jul.22 GEORGE REYNOLDS (Rock, Westport) 6-9pm
Fri.Jul.29 ART LAJAMBE (Folk/Rock, Peterborough) 6-9pm *www.artlajambe.com
http://www.artlajambe.com*
***Reservations Suggested from All Events
info@coveinn.com
www.coveinn.com
1.888.COVE.INN
Follow us on Twitter and Instagram *@thecoveinn*
www.facebook.com/thecovecountryinn
Check out my weekly musical column called "Notes from the 'Port " for The
Review-Mirror Westport newspaper!