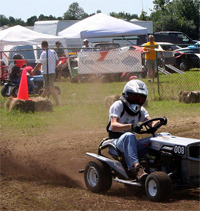 The attractive white buildings and all those bright orange roofs have become a local landmark for area residents as well as travelers on Hwy 15. In the twenty – eight years at this location the fair has grown and expanded to act as a bench mark for other fairs in Ontario. The Lombardy fair has set high standards for itself and will continue to provide country hospitality, entertainment, and agricultural education, for the whole family, whether they have rural or urban roots.
Join us at the Lombardy Fair August 3-6, 2012.
At the Fair enjoy Produce, Home Craft, and Handcraft displays. Take in the Agricultural Showcase. For the western horse enthusiast there is Western Team Penning (Sat. and Sun.). Kids' Day (Sun.) features games and activities. Simply charming is the Junior Fair Ambassador Contest Show (Fri.), Baby Show (Sun.), and Mutt Show (Mon.). Enjoy the antics of the Land of Lakes Tunis Shrine Clowns Saturday through Monday.
For more information visit www.lasfair.ca.