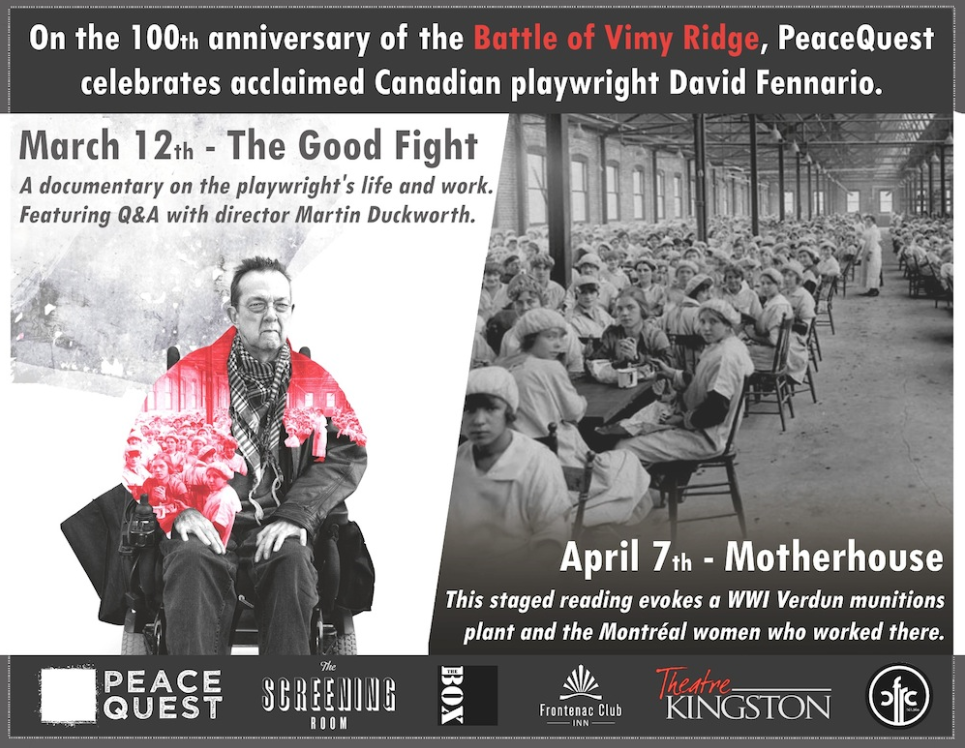 This powerful drama gives voice to Montreal women at the British Munitions Factory during the Great War. Tensions were running high due to the conscription of their husbands and sons, and their painfully long work hours at the factory; Motherhouse tells a very different sort of Canadian war story.
Produced in association with Theatre Kingston, this reading, directed by Kathryn Mackay, will feature some of Kingston's favourite actors.
No valour. No glory. Just mothers and daughters, sisters and sweethearts struggling to get by doing the dangerous work of bomb making. Meanwhile, their children waste away and their men die in Europe to gain little ground: "The ground we took is not measured in miles but yards…I'm not kidding…ten men killed for every goddamn step taken over there…"
A gritty tale of hard-bitten women who fought another sort of fight.
Friday April 7th – 7:30pm – $10
at H'Art Centre – The BOX Theatre
237 Wellington St. Lower Level
K7K 0B5
Advance tickets at Novel Idea Bookstore and tickets at the door
This event is being held in concert with a screening of The Good Fight, a documentary on the life and work of Fennario. March 12th 4pm at the Screening Room. Please see the Peace Quest website or Facebook page for more information.
Date :
Friday, April 7, 2017 at 7:30 pm
Event location :
H'Art Centre – The BOX Theatre
237 Wellington St. Lower Level
K7K 0B5

Contact :
Name : Peace Quest
E-mail : admin@peacequest.ca
Phone number : (613) 583 – 2569