Just letting you know there are some amazing November Events at The Cove. Come and dine at our Roast Beef Buffet, available every Saturday from 5:30-8:30pm. Just letting you know.
Look forward to seeing you!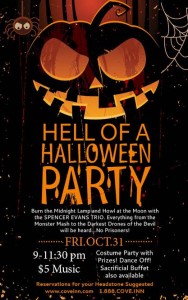 Fri.Oct.31
HELL OF A HALLOWEEN PARTY with The Spencer Evans Trio 9-11:30pm
Prizes for Best Costume! All the crazy creepy hits!
Sat.Nov.1, 15, 22 + 29, Wed.Nov.5
HEAD OVER HEELS (Vocal/Guitar Duo) 6-9pm
Sweet Acoustic Sounds!
www.kevinheadmusic.com

Wed.Nov.12 + 19
WINGS 'n TUNES with Shawn McCullough (Country/Rock) 6-9pm
Weekly midweek tunes with the locals! $10 Wings and Fries!
www.reverbnation.com/shawnmccullough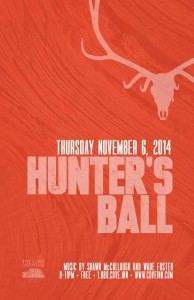 Thu.Nov.6
HUNTER'S BALL with Shawn McCullough + Wade Foster (Country) 8-11pm
An annual tradition…now at The Cove.
www.reverbnation.com/shawnmccullough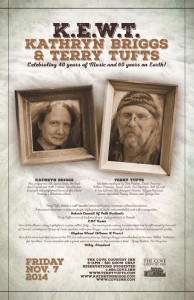 Fri.Nov.7
TERRY TUFTS + KATHRYN BRIGGS – K.E.W.T. (Folk) 8-11pm
Legendary Canadian Folk Guitar player with his partner in their new project. Fantastic, Mind Blowing! Celebrate Terry's 60th birthday and 40th year in the Music Business!
www.terrytufts.com
www.kathrynbriggs.com
Sat.Nov.8
LONG SAULT TRIO (Folk/Jazz) 6-9pm
A new thing! Appalachian to jazz to folk to blues…
www.lindagrenier.com/long-sault-trio
Fri.Nov.14
JOHN WILBERFORCE (Country/Rock) 6-9pm
A music treat. Solo!
www.reverbnation.com/johnwilberforce
Thurs.Nov.20
Westport Christmas Fashion Show12-2pm
Featuring Fashions and Accessories from Local Westport Businesses! Door Prizes! Please bring a Children's Winter Clothing Item in Support of our Winter Wear for Kids Drive for our Local Public Schools. An annual great cause. $25 Lunch and Show Tickets available at The Cove, Seasons of Westport and some other participating stores.
www.coveinn.com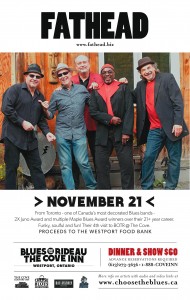 Fri.Nov.21
BLUES on the RIDEAU with FATHEAD (Toronto) 7-11pm $60 Buffet + Show
Juno and Maple Blues Award Winners!
www.fathead.biz
Sat.Nov.29
SANTA CLAUS PARADE with HENRY NORWOOD + Friends (Country) 1-4pm
Local Country star Phenom with his band! Always a cozy party!
www.facebook.com/HenryNorwoodArtist
Look for great daily and weekly specials. Always creative, always well priced!
For More Info and Reservations, please visit:
www.coveinn.com
www.facebook.com/thecovecountryinn
info@coveinn.com
1.888.COVE.INN