Still lots going on in Westport! The weather keeps you coming and with the new brewery in town, people are excited! Lots of entertainment with a big Wine Dinner coming Nov.22 with Chef Joanne Edwards! Thanks for continuing to support The Cove!
Seamus and all of us here
WINTER EVENTS @ THE COVE!
Every Wednesday WINGS 'n TUNES + THE OPEN MIC with SHAWN McCULLOUGH (Country/Rock, Westport) Sing a tune and you could win a guitar! 6:30-9:30pm www.reverbnation.com/shawnmccullough
NOVEMBER
Fri.Nov.9 BREA LAWRENSON with SHAWN McCULLOUGH "Roulette + Change Single Release Party" www.brealawrenson.com www.reverbnation.com/shawnmccullough
Fri.Nov.16 BLUES on the RIDEAU with HOGTOWN ALLSTARS (Toronto) 7-11pm Buffet & Show $65 + HST www.bluesontherideau.ca www.facebook.com/events/the-hogtown-all-stars/1565541653492234/
Sat.Nov.17 LOGAN BROWN & TAYLOR ANGUS (Acoustic Soul, Perth) 6-9pm www.taylorangusmusic.com
Thu.Nov.22 "MEMORIES OF BOURDAIN" WINE DINNER By Chef Joanne Edwards. Wine Talk by Andrew Rasta of Lifford Wines. 6-Course Meal with Wine Pairings $80 + HST Overnight Packages Available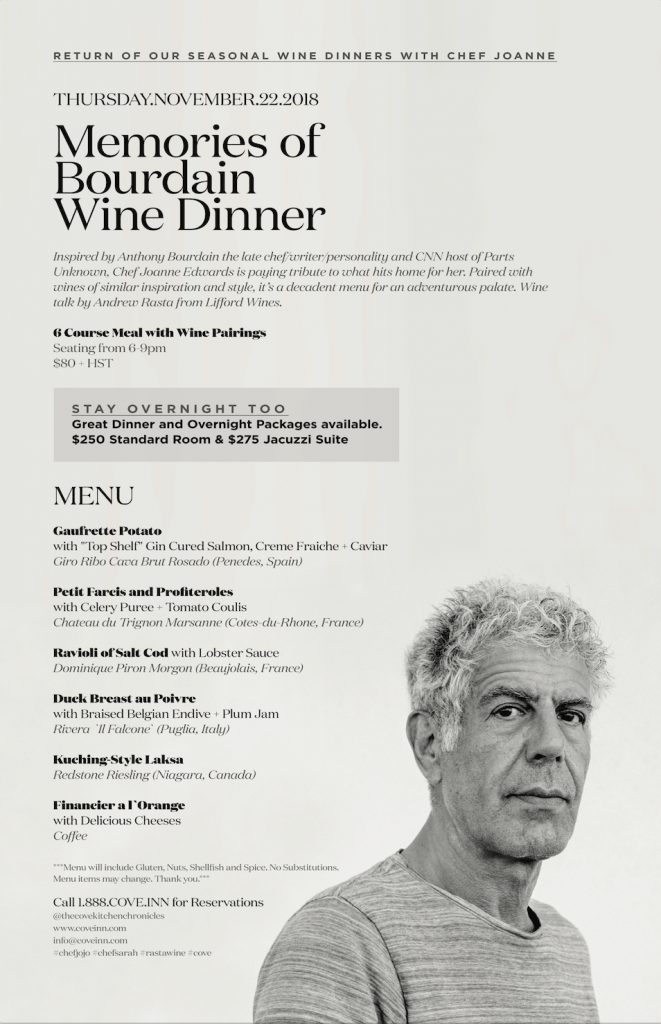 Fri.Nov.23 JOEY WRIGHT with BROWNSTONE feat. JENNY WHITELEY (Country/Bluegrass, Lanark) 7-10pm $10 www.blackhenmusic.com/joey-index-1/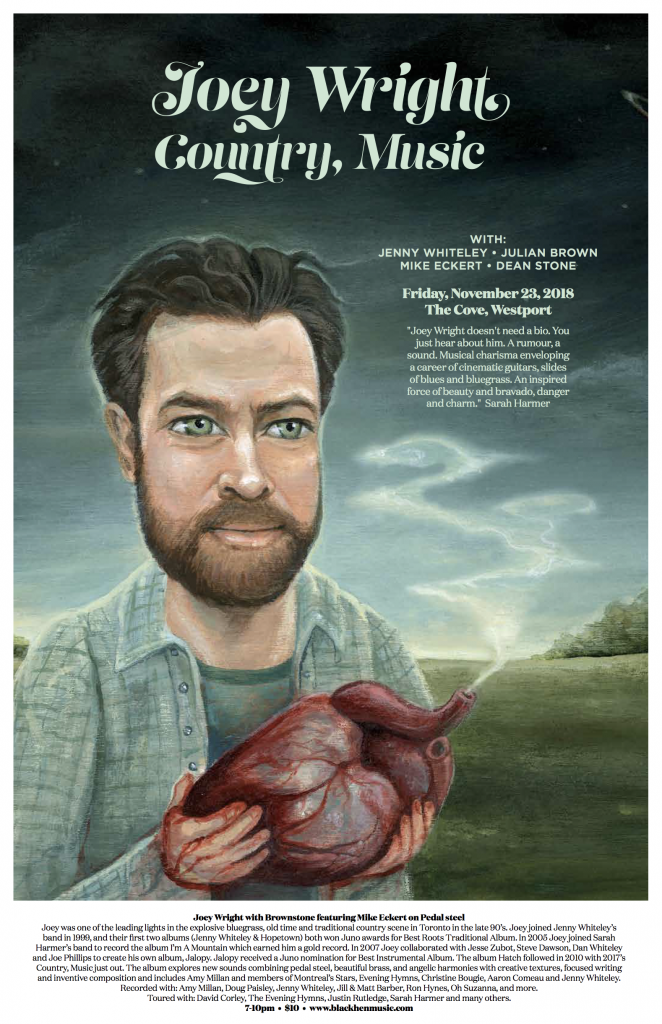 Sat.Nov.24 SANTA CLAUS PARADE COUNTRY MATINEE with HENRY NORWOOD & SHAWN McCULLOUGH (Country, Perth/Westport) 3-7pm Parade Starts 2pm www.facebook.com/henrynorwoodartist www.reverbnation.com/shawnmccullough
Fri.Nov.30 WORLDS COLLIDE AFRICA FUNDRAISER with Music by BEN VANDERGAAST 6-9pm Donations @ Door Accepted! 50/50 Draw + Silent Auction! Reservations for Seating and/or Dinner Suggested.
www.pamojatunawezaboysandgirls.com www.worldscollideafrica.com www.benvandergaast.com
DECEMBER
Sat.Dec.1 Christmas Classic Rock Party with TONY SILVESTRI BAND (Classic Rock/Blues, Kingston) 7-11pm Buffet + Show $45 www.facebook.com/TonySilvestriMusic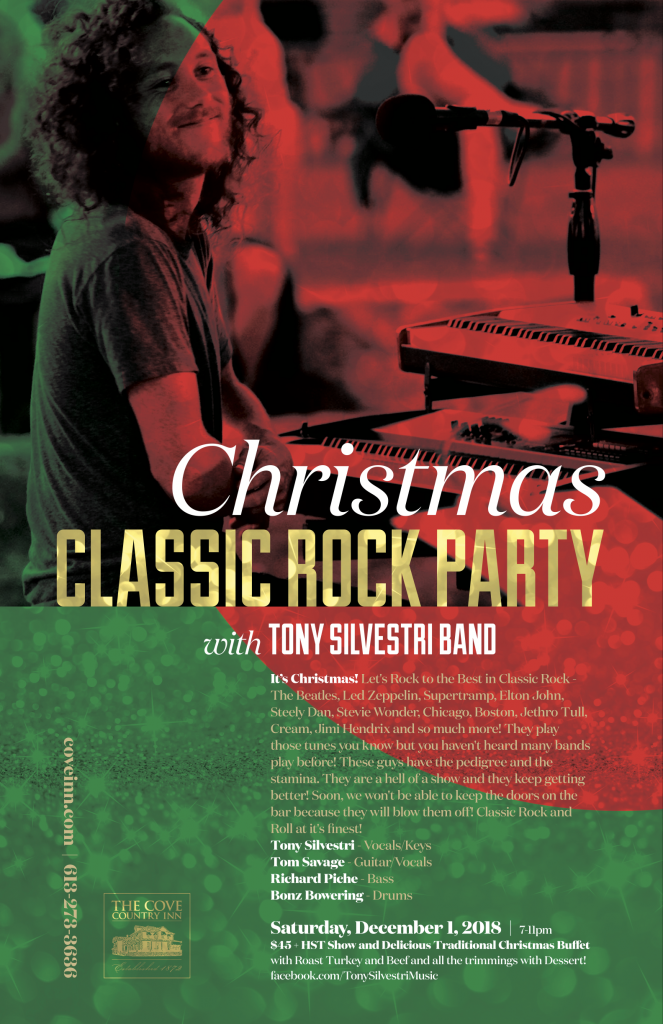 Fri.Dec.7 MONKEYJUNK (JUNO Award Winning Blues, Ottawa) 7-11pm Buffet + Show $60 www.monkeyjunkband.com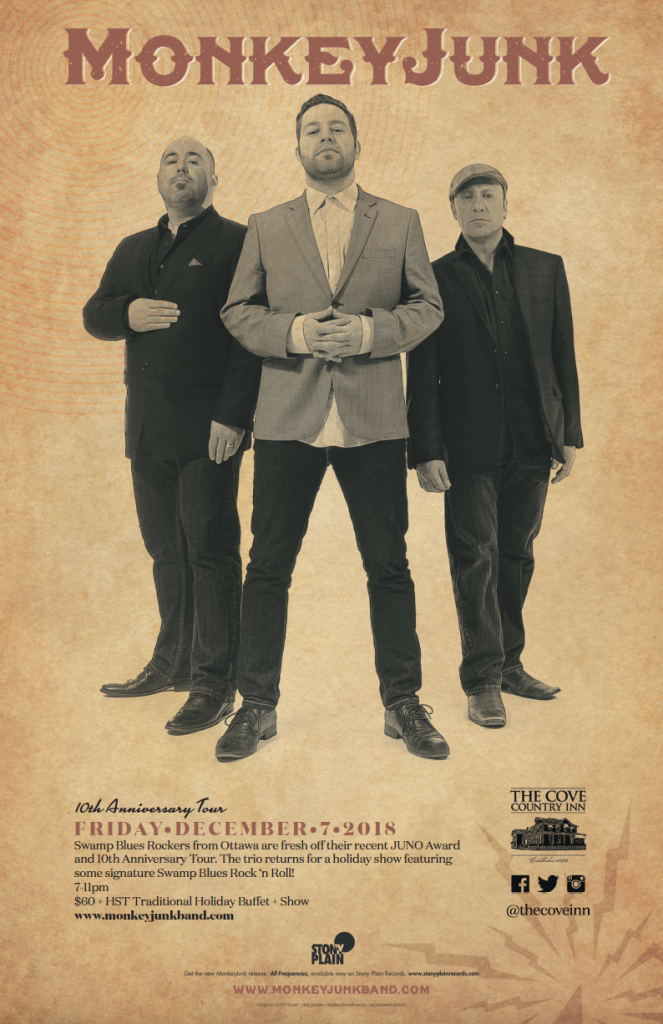 Sat.Dec.8 A JEFF CALLERY + WADE FOSTER CHRISTMAS (Country/Folk/Rock, Brockville/Perth) Buffet 6-8pm Show 7-10pm www.reverbnation.com/jeffcallery www.wadefostermusic.com
Fri.Dec.14 JOHN WILBERFORCE (Folk/Rock, Kemptville) 6-9pm www.johnwmusician.com
Sat.Dec.15 YOUNG PETTY STONES (A Musical Nod to Neil Young, Tom Petty and The Rolling Stones!) 7-11pm Buffet + Show $50 www.facebook.com/pages/category/Musician-Band/Young-Petty-Stones-280608412531628
Fri.Dec.21 HEALY + ORR ROCK 'n ROLL CHRISTMAS (Classic Rock/Country, Brockville) 7-11pm Buffet + Show $50 www.healyandorr.ca
Sat.Dec.22 JAZZ NIGHT with SPENCER EVANS TRIO (All Styles of Music, Make a Request!) 9-11pm $5
Thu.Dec.27 THURSDAY after Boxing Day! WINGS 'n TUNES + OPEN MIC with SHAWN McCULLOUGH (Country) 6:30-9:30pm
Fri.Dec.28 HENRY NORWOOD (Country, Perth) 7-10pm www.facebook.com/henrynorwoodartist
Sat.Dec.29 HEAD OVER HEELS (Folk, Jazz, Blues Acoustic Duo, Gananoque) 6-9pm www.kevinheadmusic.com
Mon.Dec.31 NEW YEAR'S EVE with TURPIN'S TRAIL (Celtic/East Coast/Folk, Kingston) 7pm-1am $50 + HST www.turpinstrail.com
HOURS — Sun, Mon, Tue + Thu 11:30am-8pm — Wed, Fri + Sat 11:30am-9pm
LUNCH + DINNER DAILY + TAKE OUT MENU TOO!
All Events Subject To Change. Please Call For Reservations
For Event Info, go to Entertainment at www.coveinn.com
The Cove Country Inn 1.888.COVE.INN @thecoveinn @thecovekitchenchronicles