Enjoy the rest of the summer at The Cove and in Westport! 
Civic Long Weekend has already passed and we are just about into MUSICwestport festival weekend…see schedule and more info below!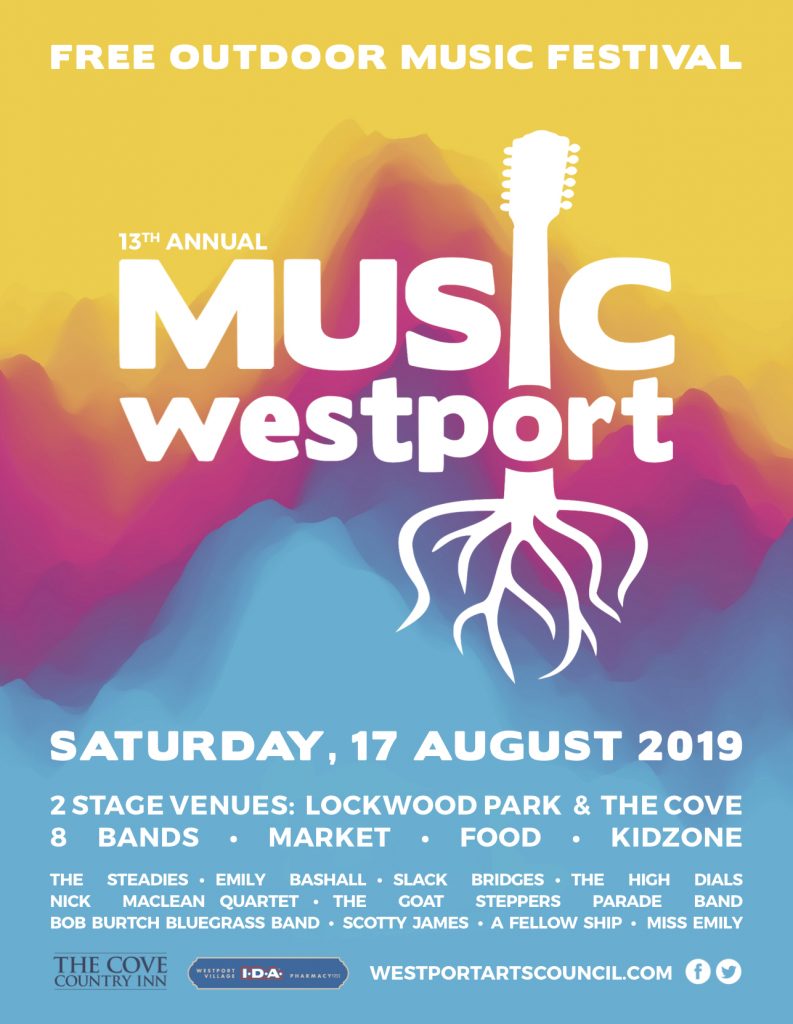 Music and the Party.
The weekly summer programming has been a hit again! Music weekly from Wednesday to Sunday! Some great new artists from abroad like Fanaid from Belfast, Ivor Simpson Kennedy from Australia and Morgan Davis from Nova Scotia gave some memorable performances at The Cove as did some returns from regulars like Benni Vander, Henry Norwood and Tony Silvestri. Check out our Events Calendar for August and September below OR online http://coveinn.com/index.php/events/
Food and Drink.
Enjoy our all day menu! People have been loving this…no more munchie menu! We have been swamped with orders for the Lobster Roll, the Ginger Peanut Spinach Salad with an unreal Miso Maple Dressing! We have been enjoying serving tasty new bottles of wine, local beer in can and on tap and weekly signature cocktails to serve at The Cove!
Just a reminder, buy 10 lunches, get one free! Ask your server to get your card! Gift Certificates to The Cove available all the time too!
Check out the Festival Schedule Weekend below!
Fri.Aug.16.2019
Kick Off Party with THE STEADIES @ The Cove
Sponsored by Westport Arts Council
@ The Cove Country Inn, 2 Bedford St.
7:00-8:00pm Buffet & Served Dessert
8:30-11:00pm The Steadies
$60 + HST Buffet & Show (priority seating)
The Steadies (feat. Earl Pereira of Wide Mouth Mason). Reggae/Pop/Funk from Saskatoon. www.facebook.com/thesteadies
Sat.Aug.17.2019
Lockwood Park Stage
Sponsored by Westport Village IDA Pharmacy
@ Lockwood Memorial Park on George St. between Spring and Concession
Free
12:00-1:00pm Bob Burtch Bluegrass Band. Traditional Bluegrass from Seeley's Bay/Cornwall/Kingston. https://www.youtube.com/watch?v=aT4BawohH9E
1:30-2:40pm  Nick MacLean Quartet. Modern Jazz from Toronto.http://nicholasmaclean.com/
3:00-4:10pm A Fellow Ship. Folk/Pop/Jazz/Funk/Soul from Toronto. www.afellowship.net
4:30-6:00pm Scotty James. https://scottyjamesmusic.com
The Cove Stage
Sponsored by The Cove Country Inn
@ The Cove, 2 Bedford St.
Free
12:30-1:40pm Emily Bashall. New Country from Kingston. http://emilybashall.com
2:00-3:10pm Slack Bridges. Neo Soul/Funk/R&B with Horns from Ottawa. www.slackbridges.com
3:30-4:40pm The High Dials. Psychedelic Folk Rock Pop from Montreal. www.thehighdials.net
5: 00-6:30pm Miss Emily. Soul/R&B/Rock from Kingston. https://themissemily.com/
Wandering Minstrels
Downtown Westport
1:00-5:00pm The Goat Steppers Parade Band. Oldtime/Dixieland from Kingston. https://www.facebook.com/watch/?v=1409434065793400
Food, Kidzone, Vendors Market, Horse Wagon Rides, Street Minstrels, living statue, face painting, clowns, activities, games, balloon twister & more.
This all happens throughout the day!
Facebook Westport Arts Council Twitter @WestportAC
Stay Social.
Check us out online.
Facebook @thecoveinn
Instagram @thecoveinn
Follow our kitchen on Instagram! @thecovekitchenchronicles
WE HAVE A NEW EMAIL thecoveinnwestport@gmail.com
Thanks.
As always, we thank you for your interest and support and interest in our place!
AUG/SEPT 2019 Events at The Cove
Sat.Aug.10 BREA LAWRENSON with SHAWN McCULLOUGH (New Country featuring their 2 New Singles! Carleton Place/Westport) 7-10pm $10 www.brealawrenson.com www.reverbnation.com/shawnmccullough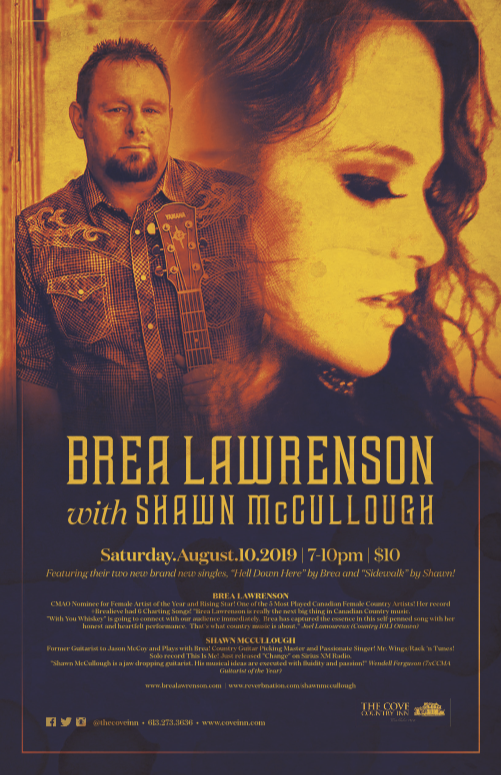 Fri.Aug.16 MUSICwestport KICK OFF PARTY with THE STEADIES feat. EARL PEREIRA, bass player from WIDE MOUTH MASON (Reggae/Funk/Pop/Rock, Saskatoon) 7-11pm $60 Buffet + Show www.facebook.com/thesteadies/www.westportartscouncil.com
Sat.Aug.17 13th Annual MUSICwestport FREE OPEN AIR FESTIVAL feat. 8 Bands on 2 Stages (The Cove + Lockwood Park), Wandering Minstrels, KidZone and more! www.westportartscouncil.com
Fri.Aug.23 HALFCOCKED & LONESOME (90s + 00s Country Hits & Honky Tonk, Ottawa) 8-11pm www.halfcockedandlonesome.com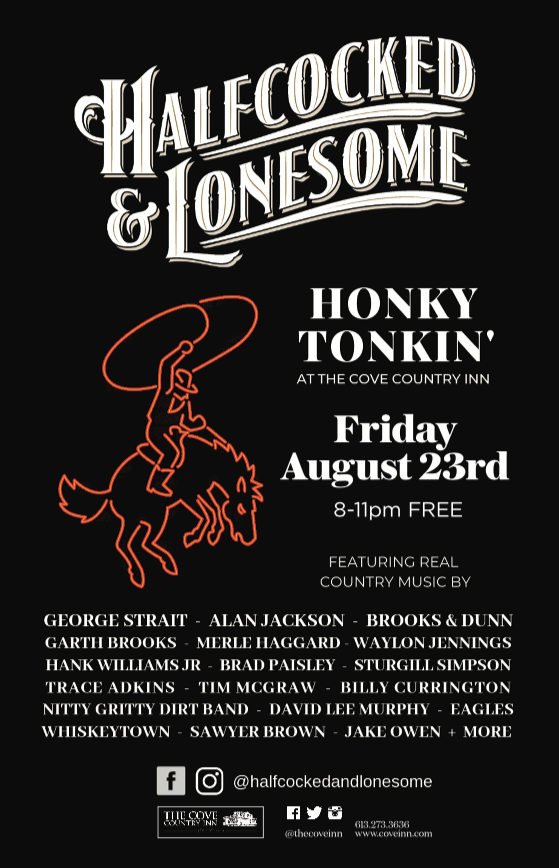 Sat. Aug.24 TIM MOXAM (Incredible Indie/Alt-Country, Toronto) 5-8pm www.timmoxam.com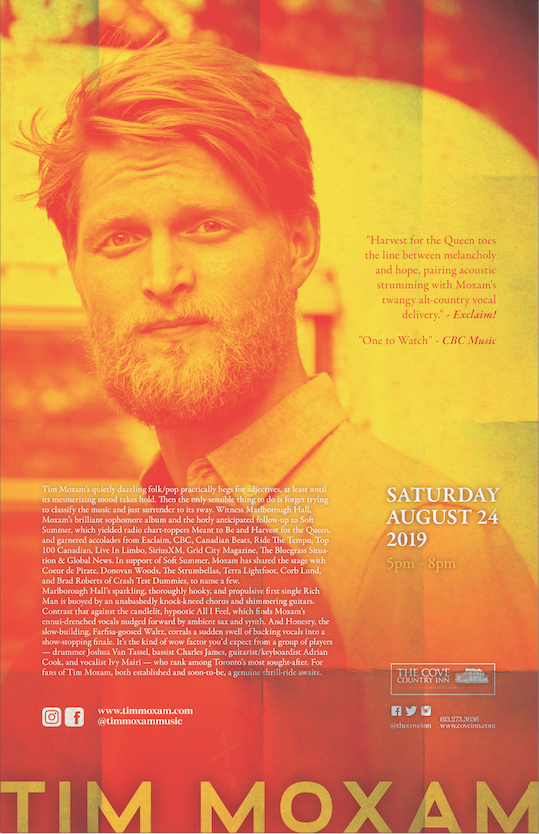 Fri.Aug.30 THE GOODNIGHT IRENES (Folk, Kingston) 5:30-8:30pm www.facebook.com/TheGoodnightIrenes/ & HENRY NORWOOD (Classic Country, Westport) 8-11pm www.facebook.com/henrynorwoodartist/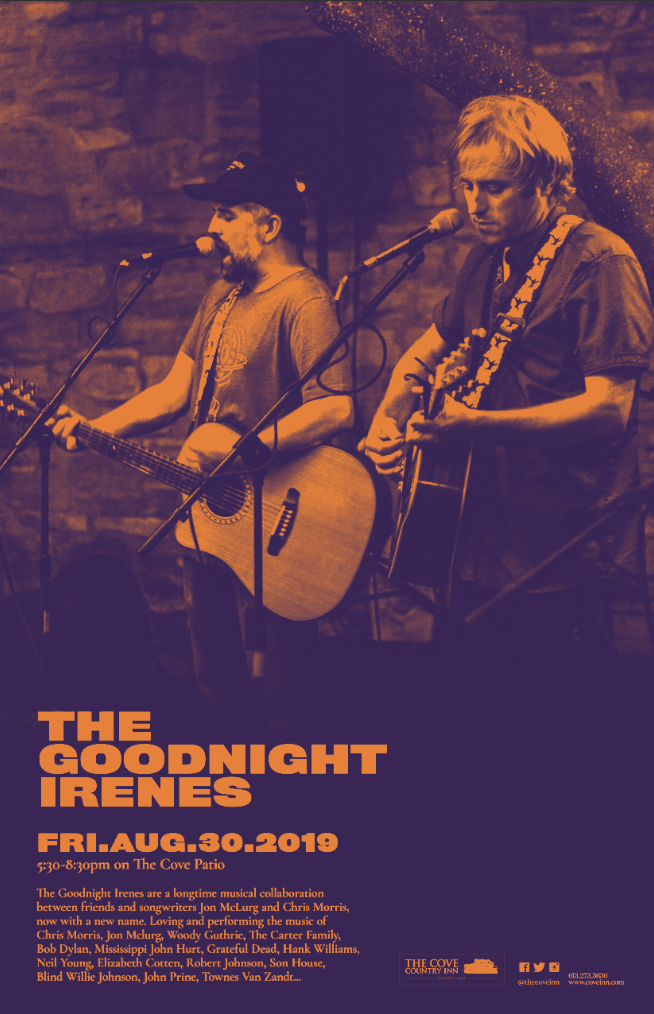 Sat.Aug.31 DEAD ROOT REVIVAL feat. TOM SAVAGE + TONY SILVESTRI (Original Jam Rock/Classic Rock, Kingston/Belleville) 8-11pm $15 www.facebook.com/DeadRootRevival/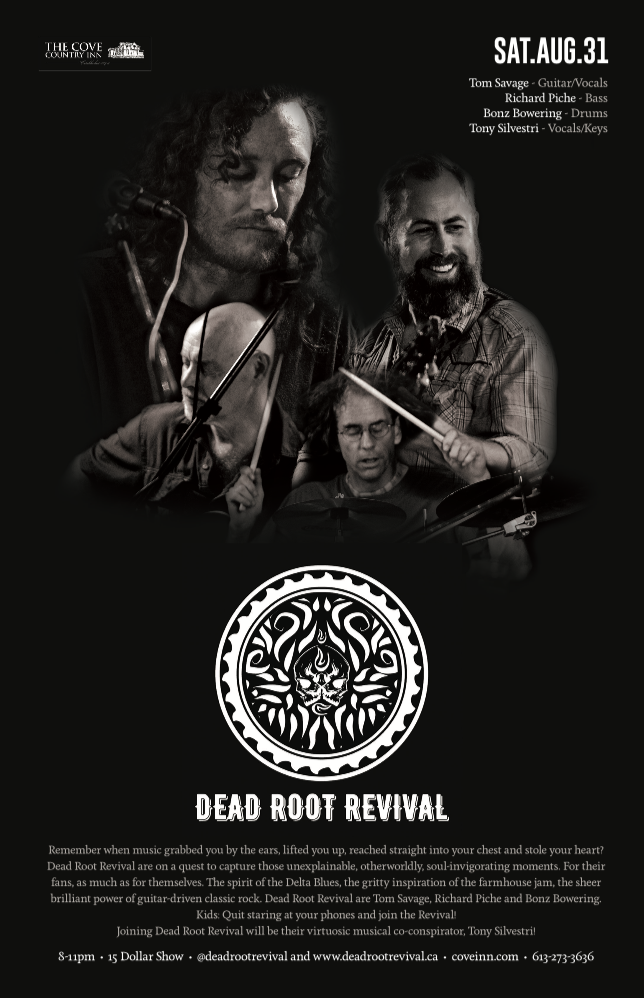 Sun.Sept.1 JOHN WILBERFORCE (Folk/Rock, Kemptville) 5:30-8:30pm www.johnwmusician.com
Fri.Sept.6 KRIEF (Indie Rock, Montreal) 5:30-8:30pm www.krief.ca
Sat.Sept.7 DAVID ALLEN JAMES (Folk/Rock, Picton) 5:30-8:30pm www.davidjamesallen.ca
Fri.Sept.13 Blues on the Rideau with HARRISON KENNEDY BAND (Soul/Blues, Hamilton) 7-11pm Buffet, Show + Charity $70 + HST www.bluesontherideau.ca www.harrisonkennedy.ca
Sat.Sept.14 TERRY TUFTS (Acoustic Folk/Fingerstyle Guitar Master) 5:30-8:30pm www.terrytufts.com 
WEEKLY ENTERTAINMENT!!!
Every Wednesday RACK 'n TUNES + OPEN MIC with SHAWN McCULLOUGH 7-10pm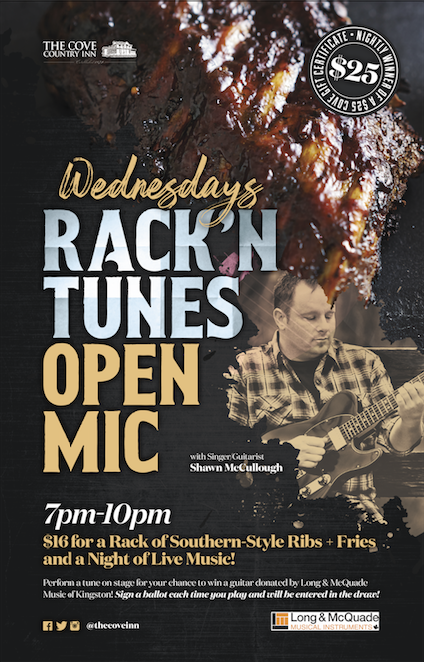 (Country/Rock, Westport) Sing & Win a guitar!  www.reverbnation.com/shawnmccullough
Every Thursday JAZZ NIGHT with SPENCER EVANS TRIO (All Styles of Music!) 8-10pm $5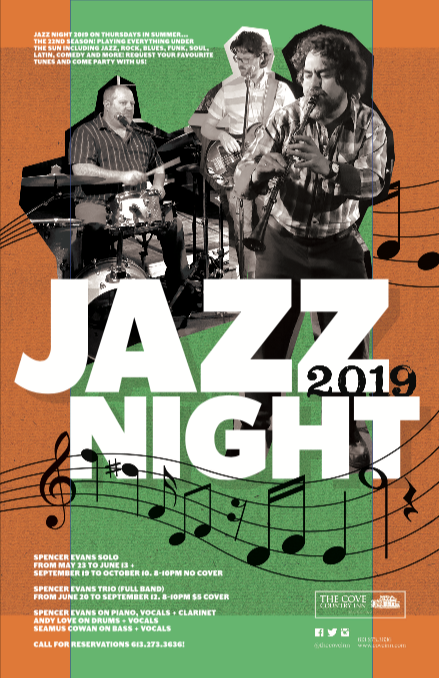 Every Sunday until Oct.13 HEAD OVER HEELS on the PATIO (Acoustic
Blues/Folk/Roots, Gananoque) 12:30-3:30pm www.kevinheadmusic.com
HOURS
Every Day 11:30am-9pm
TRY OUR TAKE OUT MENU TOO!
***All Events Subject To Change. Please Call For Reservations
For event info, go to Entertainment at www.coveinn.com 613.273.3636 thecoveinnwestport@gmail.com
The Cove Country Inn 1.888.COVE.INN @thecoveinn @thecovekitchenchronicles
Seamus Cowan
Manager
The Cove Country Inn
2 Bedford Street
Box 490
Westport,ON
K0G 1X0
thecoveinnwestport@gmail.com
1.888.COVEINN
www.coveinn.com
Facebook, Instagram + Twitter @thecoveinn