Hello all you Cove friends!
We have a new menu out! So thankful for the kitchen in putting together this great offering! Come and try it anytime.
We also have some great events happening in December! All kinds of incredible groups including the one and only 2018 JUNO Award winners for Best Blues Band, MonkeyJunk this Friday!
Merry Christmas everyone! Take a shot at our "BEST COVE CHRISTMAS PICTURE CONTEST"! The Cove has been beautifully decorated for the season so get friends and family together and take a portrait! Send it to
info@coveinn.com
or post on Facebook or Instagram tagging us
#bestcovexmaspic
and you could win some fabulous Cove prizes! The most shares wins! Winners announced Sat.Dec.22 at The Cove 30th Anniversary Party and Jazz Night! Happy Holidays!
Get your Cove Gift Certificates here for Christmas gifts!
Finally, we will be celebrating the 30th Anniversary of The Cove Country Inn on Sat.Dec.22 with the Spencer Evans Trio and the Annual Christmas Jazz Night! Come with your stories, memories, smiles and Christmas cheer!
Thanks again to each and every one of you for yet another successful year at The Cove in Westport! We can't do it without you and we look forward 2019 with you!
Seamus and all of us at The Cove!
DECEMBER EVENTS @ THE COVE!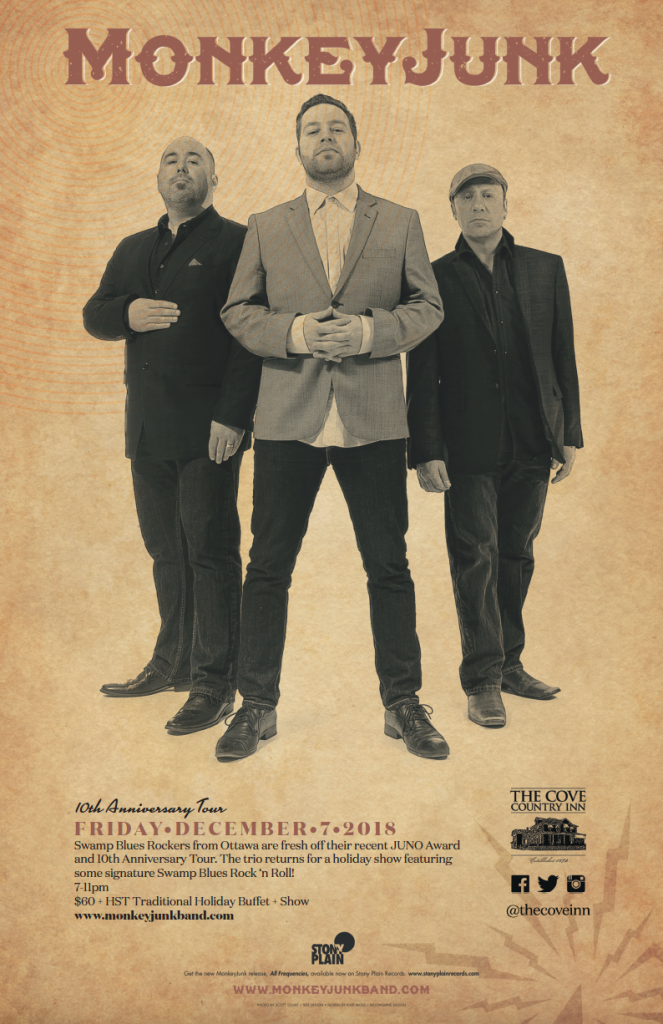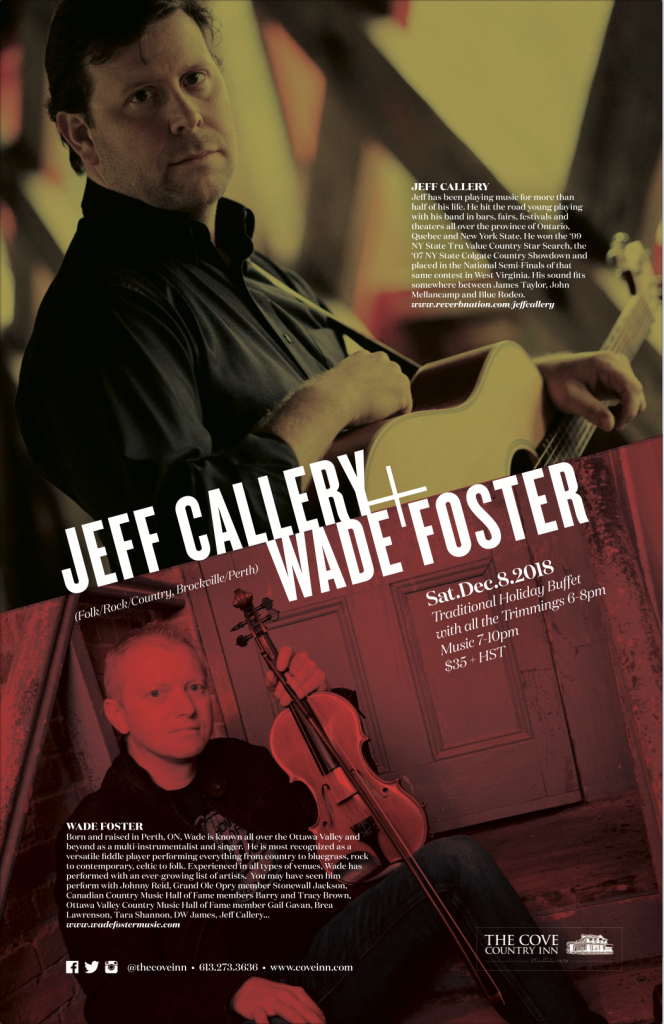 Fri.Dec.21
HEALY + ORR ROCK 'n ROLL CHRISTMAS
(Classic Rock/Country, Brockville)
7-11pm
Buffet + Show $50
www.healyandorr.ca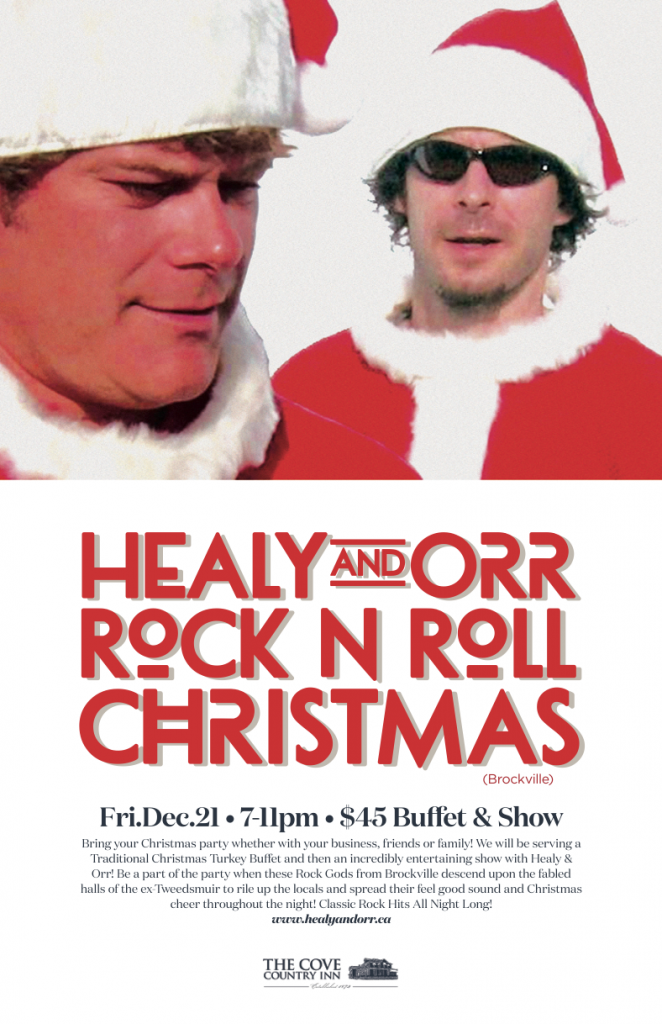 Sat.Dec.22 30th ANNIVERSARY of THE COVE + XMAS EVE EVE EVE JAZZ NIGHT with SPENCER EVANS TRIO (All Styles of Music, Make a Request!) 9-11pm FREE!
Thu.Dec.27 THURSDAY after Boxing Day! WINGS 'n TUNES + OPEN MIC with SHAWN McCULLOUGH (Country) 6:30-9:30pm
Fri.Dec.28 HENRY NORWOOD (Country, Perth) 7-10pm www.facebook.com/henrynorwoodartist
Sat.Dec.29 HEAD OVER HEELS with bassist ZAK COLBERT (Folk, Jazz, Blues Acoustic Duo, Gananoque) 6-9pm www.kevinheadmusic.com
Mon.Dec.31 NEW YEAR'S EVE with TURPIN'S TRAIL (Celtic/East Coast/Folk, Kingston) 7pm-1am $50 + HSTwww.turpinstrail.com
HOURS — Sun, Mon, Tue + Thu 11:30am-8pm — Wed, Fri + Sat 11:30am-9pm — Dinner Menu Served @ 5pm —
NEW ALL DAY COMFORT MENU OUT NOW + TAKE OUT MENU TOO!
***All Events Subject To Change. Please Call For Reservations For event info, go to Entertainment at www.coveinn.com The Cove Country Inn 1.888.COVE.INN @thecoveinn @thecovekitchenchronicles