Winter Park Sunday Running Group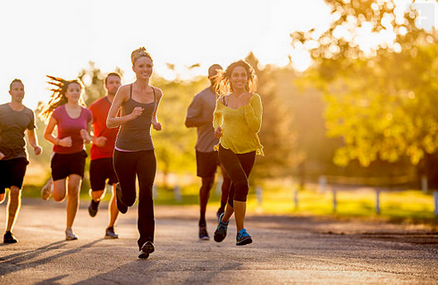 The Winter Park Sunday Running Group has been a source of pleasant running experiences and friendships for hundreds of runners over 40 years. We encourage and welcome runners of all ages and speeds to join us on the course which offers exceptional scenery throughout Winter Park. The most popular distances range from five to ten miles, but the course easily accommodates shorter loops of three or four miles. It is our policy to ensure that people new to the group are warmly welcomed and that they do not get lost on the course.
Date: Sundays, December 2,9,16,23,30, 2018 at 7 a.m – Weekly on the same day
Event location: Park Avenue & Welbourne Avenue – Winter Park, FL 32789 United States
Contact: Jack Gallagher
…………………………………………………………………………….
Trustee Luncheon
Please join us for a trustee lunch with President/CEO Betsy Gardner Eckbert in a private dining room at The Ravenous Pig. As space is limited, tickets for this luncheon are first come first serve.
Fee/Admission: $25.
Date: Tuesday, December 4, 2018 from 11:30 am to 1 pm
Event location: Ravenous Pig, 565 W Fairbanks Ave -Winter Park, FL 32789
Contact: Stacey Cox
…………………………………………………………………………….
Popcorn Flicks in the Park featuring "Miracle on 34th Street"
Presented by Winter Park CRA and produced by Enzian Theater. This film series features classic films for the whole family. We encourage you to bring a blanket, a picnic or snacks, and some family and friends and join us. Free popcorn for everyone!
In this Christmas classic, an old man going by the name of Kris Kringle (Edmund Gwenn) fills in for an intoxicated Santa in Macy's annual Thanksgiving Day parade. Kringle proves to be such a hit that he is soon appearing regularly at the chain's main store in midtown Manhattan. When Kringle surprises customers and employees alike by claiming that he really is Santa Claus, it leads to a court case to determine his mental health and, more importantly, his authenticity.
Date: Friday, December 7, 2018 at 7pm
Event location: Central Park, 150 W Morse Blvd, Winter Park, FL 32789, USA
Contact: Please call 407-629-0054 or visit http://enzian.org/film/popcorn_flicks-
…………………………………………………………………………….
Holiday Friday Nigths
Free admission from 4 p.m. to 8 p.m. Live music from 5 p.m. to 8 p.m. on six consecutive holiday Friday nights, November 23 through December 28. Programming will also include gallery tours and an art demonstration on selected dates.
The holiday season continues at the Morse on Friday, December 7, with free admission from 4:00 p.m. to 8:00 p.m. and live music by Beautiful Music Chamber Trio (cello, flute, and violin) beginning at 5:00 p.m. The evening's programming also includes an evening tour of the exhibition "Louis Comfort Tiffany's Laurelton Hall" at 7:00 p.m.
For six consecutive Friday evenings during the holidays (November 23 through December 28), the Museum is providing not only free admission from but live music and more.
For more information, visit http://www.morsemuseum.org/programs-events/friday-nights-at-the-morse
Date: Friday, December 7, 2018 from 4 to 8pm
Event location: The Charles Hosmer Morse Museum of American Art
445 N. Park Ave.Winter Park, FL 32789
Contact: Please call 407-645-5311, send e-mail to information@morsemuseum.org or visit http://www.morsemuseum.org/
…………………………………………………………………………….
Winter on the Avenue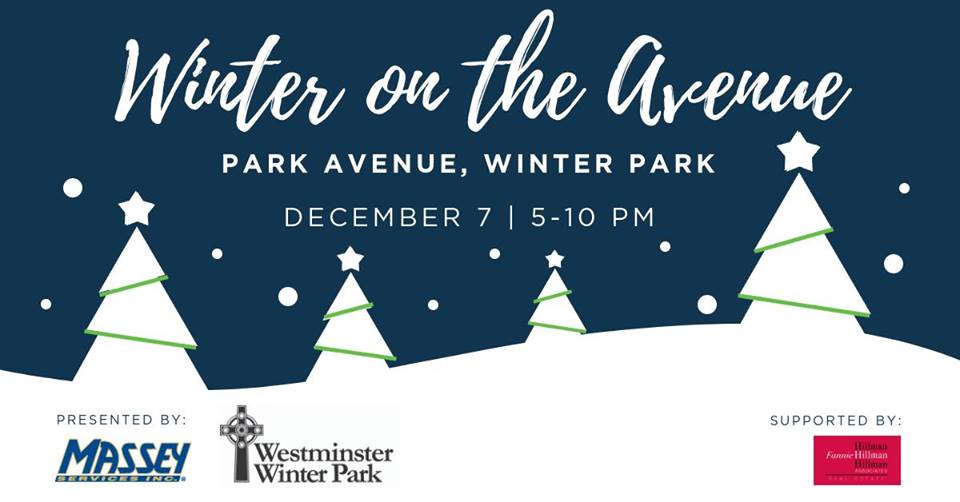 Join in the tradition of Winter Park holiday festivities as Park Avenue is transformed into a winter wonderland, complete with a tree lighting, holiday choirs, carolers and a visit from Santa.
The City of Winter Park has partnered with The Winter Park Chamber of Commerce, Park Avenue Merchants Association, and Enzian Theater to kickoff the holidays in Winter Park the first Friday evening in December.
Come experience the best of downtown Winter Park this holiday season! Park Avenue will be closed to vehicular traffic in order to transform downtown into a pedestrian plaza, beginning at 2 p.m. New England Avenue will remain open to thru traffic.
Date: Friday, December 7, 2018 from 5-10pm
Event location: Central Park – Park Avenue, Winter Park, FL 32789
Contact: Tiffany Cahill
…………………………………………………………………………….
Leadership Winter Park Pancake Breakfast
Before and during the Christmas parade, Leadership Winter Park hosts its annual Pancake Breakfast at the Central Park stage from 7:00-10:30 a.m. Tickets cost $5 and include pancakes, sausage, coffee, milk, juice and fabulous toppings! Event proceeds benefit adult and youth leadership development programs.
Date: Saturday, December 8, 2018 from 7-10:30am
Event location: Central Park, Park Avenue – Winter Park, FL 32789
Contact: Click here to buy your tickets or send e-mail to Amie Morgan
…………………………………………………………………………….
| | |
| --- | --- |
| Did you enjoy this article? | Related Posts |